The bells flew to Rome, the bells came back from Rome. According to tradition, Jesus was cruelly killed, Christ rose from the dead. Anyone who doesn't know it from the church knows it from television. (As far as he knows of the church, he's probably caught on TV, not just when Jesus flees the cornfield.) In the Czech Republic (and parts of Slovakia and Poland), a feast Easter took place on Monday. Previously, this Czech folk custom took place in the predominantly German-speaking northern border region of Czechoslovakia. Dad recalled that the German boys went to see this squirrel (actually Schmeckostern or Aufpeitschen) on Friday. So the Czech boys joined them, and their German friends went out with them again on Monday. And so the boys from Liberec had two Easters. (Even before the little Germans stopped being friends.) According to progressives, this predominantly Czech (bad) custom is a "surviving tradition that will die out."
Well, this tradition hasn't gone away at least since the 14th century, when it was first "documented". Even without written proof, we can be sure that it was originally a pagan ritual related to fertility (see the red eggs, somewhere referring to the Sumerians, Persians and Babylonians). It wasn't eradicated by the Christian churches (who basically reshaped this Jewish holiday tradition of Passover), it wasn't eradicated by the communists who went to churches like chickens after the flu – but supported "popular traditions" but can be eradicated by today's progressives.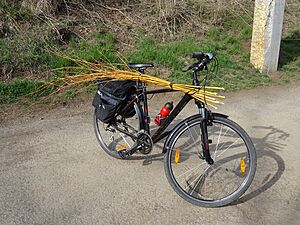 I regret all the people who have been, are and will be victims of misunderstanding, when their parents only take charge of the external side of a custom, but without its original spiritual and animal content and its transcendence. A typical bad habit is the frightening of children by the devil of Santa Claus, and therefore the hell he represents. For a small child, the real idea of ​​someone else in a bag kidnapping their parents is really scary. Fortunately, thanks to the Czech storytellers of the 20th century, our demons and other ghosts got their "human face" (which did not happen in Japan, for example). And we have angels. I regret all women who have fallen victim to male sadism – not just "whipped cream". But not all boys and men are sadists. A lot of drivers drive like cattle, but we don't ban cars. However, it is true that I saw three traffic patrols when I returned from a long Easter weekend on Monday, but did not notice any sadism patrols. But I didn't even notice the sadism.
Yes, I drove back from a cycling event on Monday, where a program point was pomlázka. In addition to cycling, muddy tops and sweaty underwear, I also wore my artificially but hand-knit pompado from eight two-meter rods. On the program of the tour, which brought together singles of all ages for bike rides in the Toulovcovy Maštale region, an "Easter egg" point was planned for the first minute of Easter Monday (regardless of the time of day). 'summer). A recommendation follows: "the men prepare blood sausages and the women prepare a platter of eggs and sweets". We were about forty in a hotel in Zderaz, half cyclists and half hikers. Half gentlemen and half ladies. Many of us have known each other from previous events, but we always meet unfamiliar faces. The typical age of the crew is "middle" (or "better"), there are also twenties and thirties, and in order to maintain the average population, two gentlemen of an even better age, it ie older than me (* 1951), also participated. And we all obeyed our leader's instructions.
Pomlázka (i.e. "rejuvenation") occurred after an evening with a nozzle, when various tasty and mainly alcoholic drinks were consumed (although to such a degree that we should not struggle with l residual alcohol at the start, not only because of the police). Someone has rejuvenated more, but mostly symbolically. If you read this before 2 p.m., then close your eyes: some ladies have even adjusted their buttocks so that the pompom adheres correctly. Obviously, none of them experienced "feelings of humiliation, shame, anger". (After all – if they didn't mind, they probably wouldn't even arrive after the warning in the tour schedule…) It was in no way a "sexual practice"as imagined by today's progressive virgins. All about twenty girls were obviously flattered, and they too obeyed the orders of the chef, so I received from them a total of thirty eggs and rabbits as a reward for rejuvenation, all chocolate, something gingerbread, (of course, the rooms were not equipped with refrigerators). Plus, chocolates in different shapes, from chocolate gold and even a chocolate Easter ladybug. Rabbits, as egg carriers, came to us from Germany (they also infested the United States), but ladybugs, I don't know. But an interesting take! (Yeah, and I also got a kiss from a friend.)
A short sleep was followed by a farewell breakfast. I did not forget to gently whip even the two waitresses. I even had a blue egg from one – not chocolate, but boiled chicken. She was happy! And she even tied me a green ribbon. The other one was also happy, but she hasn't had any eggs all week, so at least she gave me a chocolate bar with a bunny on it. When handing over the room keys, I also rejuvenated the receptionist. With my two-meter woven wicker, I reached the counter in the background. She was also happy, although sad: I was only the third man to please her today! Well, the hotel is about a mile from the village, and few guests realized that those service creatures were also women when they were packing up and leaving the room!
I got a red egg from the receptionist for that. Like a legendary ancient hen suffered on the birthday of Roman Emperor Marcus Aurelius (exactly April 26, 2nd century AD). The Romans then began to send a red egg instead of congratulatory postcards during spring break. Eggs as a symbol of rebirth, fertility and new life were worshiped in spring by being decorated in bright colors. This custom is ancient, even ancient, as evidenced by the discovery of colored shells in a 60,000-year-old tomb in South Africa…
I would advise modern feminists and women's rights advocates – rather than banning the pom pom – to revive the tradition of the reverse pom pom, which took place after noon on Easter Monday and was called, well, "the women's law". And I strongly advise all boys and girls to respect the rejection of spanking (no equals no!), and where an ano yes' is apparent, whip – reasonably, reasonably. So that the folklorist, ethnographer and professor of the University Charles Čeněk Zíbrt (1864 – 1932) notes that it is time to apply again (and I am now describing Mr. Adamovič's Tuesday column "Mrskačka" in the metroplanes) :
"There is no doubt that the flogging will end with overwhelming satisfaction that the girl will remember the pump with joy."
Written in Prague on the Lužiny on Tuesday, April 19, 2022
PS Then a wintering fly came out of my keyboard. I released it in the cockade awakened by the spring. Have a good flight, rare pollinators!
Taken from Šaman's U hřbitova pub.