Photo: Karel Švec, Czech Hockey
Czech goalkeeper Marek Stuchlík made his national team debut against Finland on Thursday. Two days later, however, he donned a Finnish shirt and was the number two goalkeeper in the match against Sweden. Moreover, Suomi dominated the four-country tournament in Příbram, so 18-year-old Stuchlík was not missing in the team photo of the winners.

A unique situation that he will probably never experience again.
The goalkeeper was injured in the Nordic country in Příbram on Friday, and the third was not … And so there was a profession of a young Czech man.
Compared to his teammates, he basically takes first and third place from Příbram. Czech players also stabbed him.
"Fiňák, great performance!" resounded in the bowels of the stadium the hockey players of the national team.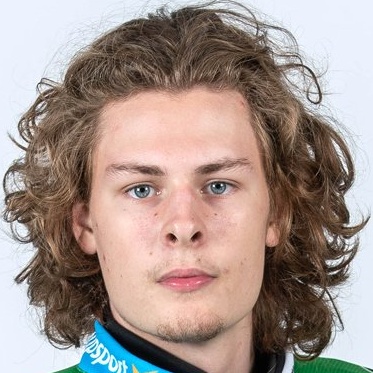 Marek Stuchlik
goalkeeper, 18 years old
"href=" https://hokej.cz/hrac/10083719 "> Stuchlík did not start the match with the Swedes, but he experienced all the wrestling rituals, and then the fans even summoned him.
The Finns dominated the tournament. But you hesitated to be with them in the team photo with the cup.
(Laughs) Sure. I also didn't know if I should go. But the boys started waving at me, so I lay there and I'll be in the team photo. that will be nice. (smiling)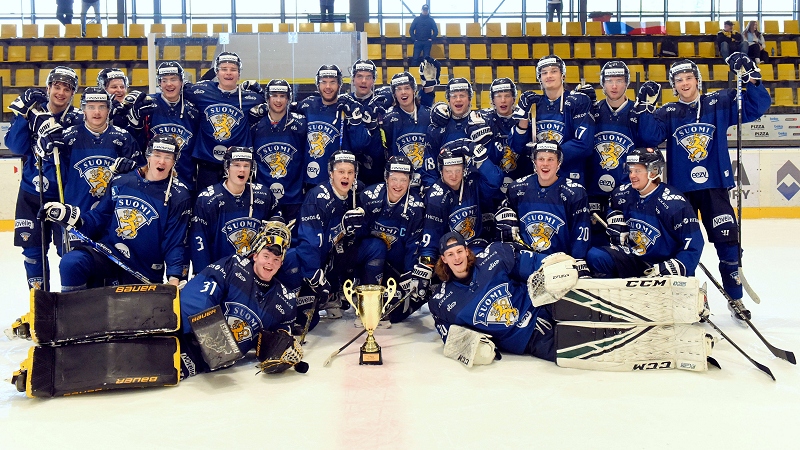 Photo: Karel Švec, Czech Hockey
It is a pity that medals are not awarded in such tournaments. Then you could have two.
It would be interesting. I don't take it as my victory, but it would be nice. (smiles again)
"I also didn't know if I should go. But the boys started waving at me, so I lay there and I'll be in the team photo."
You waved at someone in the stands after the game. Did you have anyone here?
Not at all, the fans chanted me normally. So I waved at them. Nice. But I don't know who it was – they played for me – but probably for a medal. (Laughs)
Will you stab your Czech teammates for first place?
Of course, it all started on Friday. The nickname in the group was changed to "Fiňák". Somehow I'm not taking it – the sting has started and I think we will continue to do so.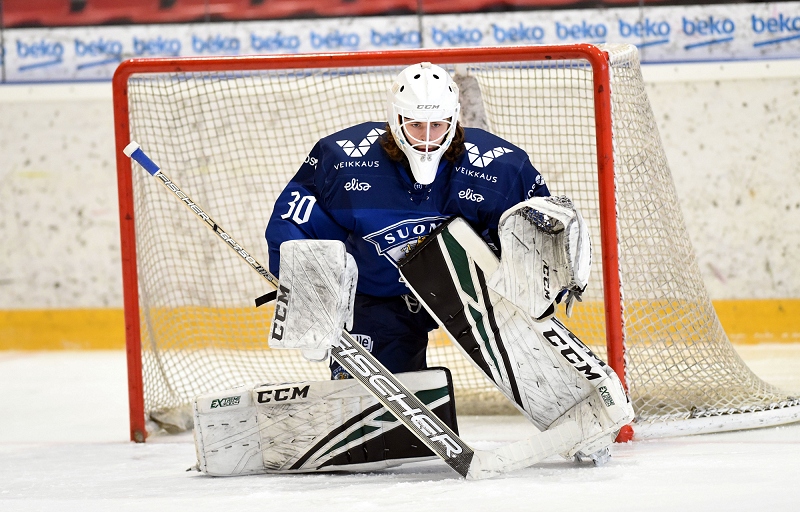 Photo: Karel Švec, Czech Hockey
Are you more or less a pro, but were you mentally prepared to be able to enter the game and catch the Finns?
It was a rather strange feeling in me. I thought anything could happen. If the first guard picked up something, I could go. I was prepared for it as always – I didn't take it for granted. It was another game for me when I could show up.
How come you were the "representative" of Finland for a match?
Jim was injured by a goalkeeper and he did something to his foot during the operation (he did not catch Slovakia on Friday) Pasanen – Note ed.). There was probably no other option. They only had two, we were the only ones left out of three – still Slovaks, but then they caught half of them. It's up to me. I really enjoyed it, it was great!
"It just came to our knowledge at that time. It's up to me. I liked it a lot, it was great!"
How did you find out that you were going to become a Finn?
On Friday night, after a game with the Swedes, the coach told us that I was going with the Finns, so I watched for a while if it was funny. (Laughs) I didn't really believe it. When I found out it was true, I was out of it, but I was looking forward to it.
So you didn't hesitate?
Absolutely not. I played in Finland for two years and I know a few guys there. It was not a difficult decision for me.
How many people do you know there?
I know the assistant coaches, some of them from Kärpät. Then a few guys I met in competitions – now they play for men, but there's one from Lahti, where I played.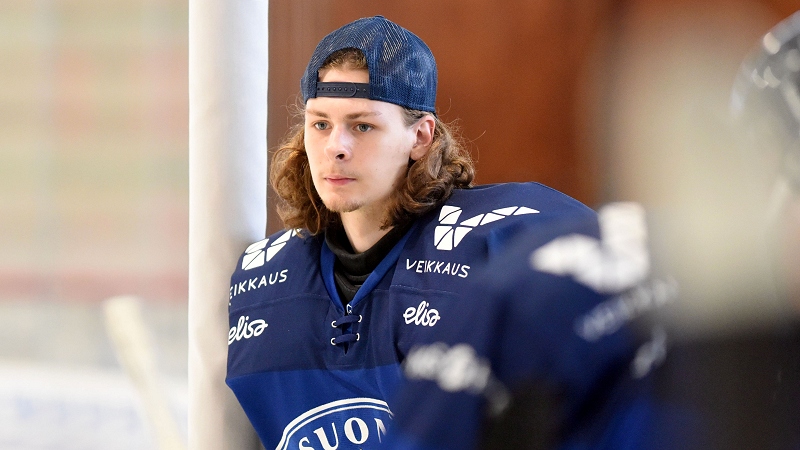 Photo: Karel Švec, Czech Hockey
How was the communication? You probably caught a few words from Finland.
Well, I can use pretty vulgar words, but I could encourage them. I am quite good at English and so are they. It was good.
And how was it in the cabin where you were with them?
It was a bit uncomfortable at first. I didn't know what to expect. But when the boys started to say hello to me and said they liked seeing me here, it totally hit me. I went to talk to them – I played football and cool.
"It just came to our knowledge at the time. I didn't know what to expect. But as soon as the boys started to say hello to me and tell me they liked to see me here, it really bothered me. completely fell over it."
Did the Finnish coaches or players thank you after the game?
Yeah Al, sounds pretty shitty to me, looks like BT isn't for me either. I laughed at them the whole game – there was a good mood all the time. I really enjoyed it – the boys helped me too. They gave me grind pucks to catch and get ready. The coaches also thanked him.
On Thursday, you made your 20s jersey just against Finland. What are your memories of that?
There were moments of bad luck. I think we were the only team in the tournament to really compete with them. The Finns arrived in a tight formation – we played them very well. The boys gave a great performance. It's a shame that it happened like this (The Czechs finally fell 1: 4 – editor's note).
It was a huge experience for you. Until then, you only had 12 minutes in the U16 selection.
Yes, I really appreciated the fact that I had a chance after such a moment. I'm happy to have been there and that the coaches gave me confidence from the first game. It's another good experience.
"First time in my twenties? I'm glad I got to be here. It's another good experience."
Probably a reward for your club season. Mladá Boleslav was on many junior and youth goalkeepers.
I don't mean to say it completely like that. We had a good defense overall and we played well defensively. Unfortunately, we were running out of goals, so we gave up so early in the playoffs. It was a great season in Mladá Boleslav – the coach led us in the right direction and I think we worked well as a team.
Head coach Petr Haken congratulated you very much before the superstructure …
I had a few games, I think we have a great relationship with Mr. Haken. I was happy that he gave me confidence and maybe I didn't disappoint him.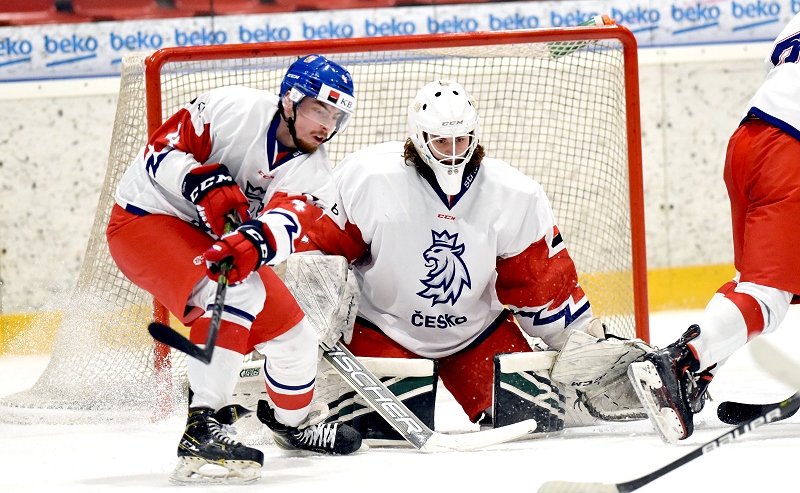 Photo: Karel Švec, Czech Hockey
Share on Facebook
Share on Twitter