Polo Vallejo
photo: Carmen Ballve
Creation, research, education and musical practice are constantly interconnected in the musical world of Polo Valleja: one area permeates another. Polo Vallejo is an internationally recognized figure for his experimental work in the field of ethnomusicology and music education. He is a guest lecturer at prestigious universities, conservatories and music centers. His music seminars are attended by people from all over the world. Pola's musical compositions are performed by soloists and ensembles on five continents.
He has been traveling across Africa since 1988, and numerous articles, books, audios and films have been and are the result Africa: the rhythm, awarded at international film festivals in Montreal, Berlin, Los Angeles, New York, Florence and elsewhere. Filmed in the heart of Tanzania by the Wagogo tribe, where Vallejo studied local polyphonic music, it recorded the pulse of African life, the rhythm of day and night, the passage of time and the seasons, the alternation stages of life, the pulse of the day work and storytelling. It is said that music is an expression of the very essence of life.
In collaboration with the Goethe Institute in Dakar (Senegal) and the Carl Orff Foundation in Diessen (Germany), he also works on ethnomusicological projects in Senegal, where he records the children's repertoire of the Bassari, Bedik and Malinké tribes. Since 2006, he has also been carrying out extensive research in the Caucasus in Georgia, focusing on the harmony of secular and spiritual songs and local polyphony, very close to both European medieval music and 20th century music. His home is in the city of Guadarrama, about 50 km from Madrid, his home is the Escuela Superior de Música Reina Sofía, one of the renowned music colleges.
Mr. Vallejo, can you tell us about your work at the Madrid School of Music? Our school is called Escuela Superior de Música Reina Sofía and is a very high quality music school. Students come here from all over the world. Each student receives a scholarship, so they have to go through a very demanding and difficult admission procedure. Students come here for great teachers and they also come from different parts of the world. This is especially true for playing instruments, i.e. violinists, violists, cellists, pianists, wind instrument players. Founded 30 years ago by Paloma O'Shea, the school has worked with top professionals such as Yehudi Menuhin, Mstislav Rostropovich, Daniel Barenboim, Zubin Mehta, Dmitri Bashkirov, Zakhar Bron, Daniel Benyamini, Ivan Monighetti and Alicia de Larrocha . serve or have served on the school board. The school's honorary president is Queen Sofia of Spain, a great supporter of all school activities and also a great music lover.
When the students finish their studies, they often collect numerous prizes throughout the world and become members of important orchestras or chamber groups. In my classes I have students from the Czech Republic, Italy, Finland, Georgia, USA, Japan, France, Colombia and other countries. This very day, I received students from Ukraine and Russia at 1 p.m. Everyone has great connections here.
What is your role at school? I teach music pedagogy subjects and I try to show students different ways to relate to music, how to open the way to a new knowledge of music, because the fact is that they may not be not be performers for the rest of their lives, even though they are now groomed for this career. . And I also teach music history, but in a rather unusual way, actually sort of across time and space. We are always dedicated to different periods and cultures at the same time, so in one hour classical or romantic music sounds in addition to the music of medieval and traditional music from many parts of the world. Sometimes we choose sub-themes (water, the elements, insects…) and then we look for musical links. In this way, we discover many examples and many composers that we would never reach in the traditional chronological way. And I work in the same way in musical pedagogy.
When people lived in a time, they didn't say they were Renaissance people or that they were creating Renaissance art. In short, they lived. I don't want to submit the music to this control. All names of artistic directions and periods are just names, people created them as separate parts, boxes. As you approach art in a more holistic way, you become more independent because you explore things as if you were rediscovering them. This is also beneficial for the students: they have to make decisions, choose between options, establish criteria for their work, etc.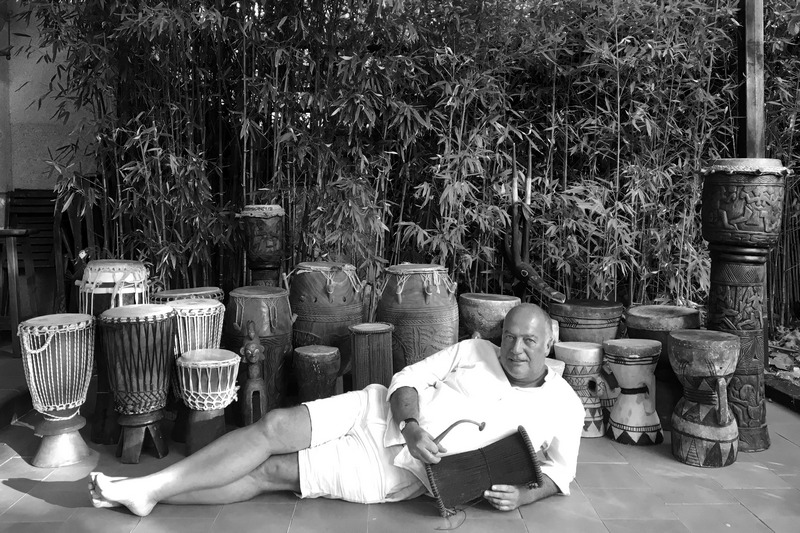 Polo Vallejo surrounded by his drums
photo: artist's archive
Sounds interesting. Does it mean you learn to look at things from new angles? Sure. And I must admit that I acquired this approach thanks to pedagogy. Because in music education, you have to choose things that are related to reality, to the group you are part of or with which you are. The musical universe before us is extremely vast, so I decided to learn the history of music first by listening, thinking, discussing instead of categorizing, separating, classifying or adapting a theory or pre-written music history, as we always have. .
It seems to me that the school is also heavily involved in many other activities, such as educational programs for children and the younger generation, isn't it? Yes. We encourage students to be able to concretely apply what they learn in class. Along with their study of instrumental games, each student must design and implement a project that will have an educational and social impact during their studies. As students are constantly trained for a high level professional career, they become very unbalanced. We would like them to learn to understand all the circumstances of the artistic process for the benefit of their own future, to come into contact with other social groups as well, to learn to come into contact with the public and other . He must therefore take care of all of the production, logistics, budget, project financing, production, impact study within the project. I therefore also help students in the design and realization of these projects. We recently discussed the effects of covid on children and the younger generation, and the result is musical programs that interact with children in hospitals because we care about children's mental health. Some of these projects are very ambitious. Last year, one of the groups chose the production bright nights Arnold Schönberg and collaborated with a Russian artist who created paintings through sand and glass painting. Everything had to be prepared, sound and light, video processing, providing artists, preparing a budget and above all defending the purpose of the project. We therefore always try to improve the artistic aspect of our work, but at the same time to be open to the surrounding society and to everything related to the life of the artist. Students grow incredibly during their studies. Literally every day they have a concert or educational program. We cooperate with many concert halls in our country and abroad, recently students performed at the Musikverein in Vienna, at the Ferenc Liszt Academy in Budapest or at the Reduta Concert Hall in Bratislava. You can watch many of their performances on the school's YouTube channel.
So you work at school and in the meantime you also run seminars abroad and work on projects? Yes, we are currently preparing a project in the Canary Islands called Barrios Orquestados with about 80 young musicians in the orchestra and other children at the Teatro Pérez Galdós in Las Palmas. Together we create a story about the islands and how it feels to be an islander. It's very beautiful musically, but also a demanding job.
So let's finally move from your school to your own activities. You seem to have a somewhat nomadic lifestyle. You were in Helsinki last week, where are you going next? I'm going to teach in Lanzarote, one of the Canary Islands. And in April in Prague. During the pandemic, a lot of things got stuck in the middle and now they are coming back to life. Before the pandemic, I traveled non-stop.
Are there places with which you have a particularly warm relationship? I have spent a very long time in my life working on interesting and, in fact, challenging projects, and in recent years I have visited Georgia and the Caucasus quite often. My life therefore seems to be divided between musical research and musical pedagogy, but for me these areas are not separate. I have a very deep relationship with the African continent which I admire, and it is not only for its music, but also for its culture, its art, its history and its human beings. I first visited Africa in the 1980s. I flew to The Gambia airport and to this day I see and feel the smells, sounds and sights I perceived then . But you can fall in love with any country. Wherever I go, I try to have a few extra days to discover new places and look around. Do you know where I will go at the end of my seminar in Prague? I will go to Jihlava and places related to the life of your composer Gustav Mahler. From the first moment I heard her music, I was captivated by her. I have to see the places where its roots are.
---
This is an abridged version, the full text available in HARMONY IV / 2022.