04/14/2022
Photo: Courtesy of West Bohemian Union of Journalists
The description: illustrative photograph; book cover cutout pen, camera and microphone
INTERVIEWS ON THE EDGE Does anyone interest you? Indeed, the journalist Jaroslav Nedbal, who joined the regional editorial office of the Ministry of Finance in Pilsen on October 1, 1970, asks questions throughout this interview. The interview interview usually contains a lot of information about the interviewee. This time we leave it alone – in the article. Also, unfortunately we don't have a picture of Mr. Nedbal. He doesn't have Facebook, neither him nor the Syndicate… Just old school.
Mr. Nedbal, you head the West Bohemian Journalists' Union and have prepared a new book for him and him. What is that?
About the title Pen, camera and microphone. It has eighteen chapters, in each of which someone (and maybe ONE OF US) looks back on their performance, expressing memories. At the same time, it's not just about working for newspapers as we knew them (because they've changed a lot and the costs keep dropping), but also radio and television. At the same time, get ready to dive deep into the depths of the last century, to the mid-1950s.
You can pick up the book electronically browse HERE – It's great, very interesting.
In fact, it's also the story of the old Truth – including a look back at the times in 1968, when the publishers published the newspaper illegally…
Yes. I put the book together, and it would have been here sooner if it hadn't been for the flu era. The idea dates back to 2018. But I knew it wouldn't be so easy to interview everyone, or even get a few witnesses. Put together.
You also wrote a piece of this book. And he doesn't forget the movie either. As far as I know, Film Studio Plzeň first sewed under the wings of Culture and Leisure Park. Only then was it swallowed up by Krátký Praha's film, after which it is under private management.
But time has also engulfed everything. Today… Of course, young people don't even know what radio was. Despite the fact that it was Pilsen, which – as the only city in Czechoslovakia – broadcast live matches from its Škoda through it. Yes, by wire. Mirek Pražák, legendary commentator of the Winter Stadium league matches and Štruncovy sady, also contributed. And as you may know, he was an athlete himself (as a tennis player), then he became a national team coach and… When the fighters went down to the second league, Míra also organized live broadcasts from outside locations and stations. Pilsen. I myself was needed when it was broadcast from Čelákovice.
You – and twenty other authors – provided the book and a dictionary of your own gimmick. It's in the chapter When the opener is not a tool and the breaker does not work in the quarry.
Exactly.
And when you have already introduced me to the sport: coach Václav Ježek once almost ruined the report of the match between Škoda Plzeň and Viktorka Žižkov. How?
At that time I was working in the Prague editorial office of Mladá fronta and at the same time I was an external contributor to the sports section of Pravda in Pilsen. I agreed to send a report by telephone on some matches of the then football team Škoda Plzeň. It would.
Skoda then lost after a wild match with Bohemka (thanks to very strange referee verdicts) and I didn't dare to call from the home office, so I decided to call from the cabin. And what I don't see. The famous trainer Václav Ježek himself stops here. With desperate gestures, I warned him that I really needed to call. He just shrugged, suggesting it was over. But even that was enough to make the report late. The editors used an article from the Czech Press Agency. So that's the cause.
Was there a time when you wanted to stop working on a book about the work of West Bohemian journalists?
Of course, there were more of those moments. Especially when she made the corona roar. We couldn't meet in person, and that slowed us down. It was impossible to go to the libraries, the archives. The Internet was not very valid for us. But I must say that everyone I involved in the work gradually and literally failed – and worked with great tenacity. So, to my surprise, we clearly stuck together and encouraged each other.
Are you still disappointed by the approach of some respondents?
There were former colleagues I spoke to: they promised to write something, but even after several emergencies they didn't react, so we quietly stopped everything.
What is the relationship between the reflection of newspapers, radio, television and cinema in this new book?
In the field of journalism, you will certainly not measure or consider anything. It depends on what angle you look at everything. Each medium has its authors: readers, listeners and viewers. Add to that the power of the Internet today. Everything evolves and I… I would leave it as it is.
Are there things that you ultimately failed to fit into the book and moments that were most forgotten?
Not much goes into the book. However, the reasons were clearly given by finance and scope. Therefore, in the secrecy of our souls, we hope that we can follow up on this first attempt and release a sequel.
What if someone starts telling you that there are usually distortions in the memory of witnesses?
Most of our authors are over sixty and have been racing for years. Memory still serves us, maybe everything will be fine and we'll meet again for this sequel. I certainly speak on behalf of all current authors.
How do you remember your beginnings?
I started as a correspondent for the Young Front and the Young World in the mid-1960s. At that time, I worked as an educator and leisure instructor at the boarding school of the Česká Třebová Railway School. Many sporting and cultural events have taken place there throughout the year. For example, we had the Theater Circle, the Reces Club, the Club of Friends of Jaroslav Foglar. We have organized scooter races and much more. I have written reports on everything in the local and regional newspapers and in the MF and MS already mentioned.
When I finished in Třebová and returned to Pilsen, I started working again as a recreational instructor – in the then Union of High School Students and Apprentices. There was also space for writing – about paddlers, women's football, literature, about Dominik Club events.
When?
It was October 1, 1970.
And how did your beginnings continue in employment?
All I had to do was a pen, a typewriter and a phone. But then they called Prague through the switchboard. It also took tens of minutes to connect! – It is therefore technically not possible to compare this era with today. There was more collegiality, I had daily contact with people, I got to know the work in the field, in factories, on construction sites or in schools. I learned all the journalistic genres that you won't even find in today's newspapers.
Does anyone today know correctly what a gloss, a chronicle, a judge, a report and an interview are? No. Today, newspapers, television and radio are dominated by advertising money. And it's very sad.
But I am happy to have been able to meet and get to know personalities such as Karel Pacner, Milan Syruček, Oldřich Vejvoda, Jaroslav Šálek, Rudolf Křesťan and many others.
What about the current drop in daily newspaper prices?
I will probably be very brief. Learning to read the newspaper, listen to the radio or television, the journalists did it themselves. But I wouldn't blame them, because they have to work for whoever pays them. However, with the increasing pressure on advertising space, the headings which people then logically miss are disappearing. Even everything around us runs and flies faster. So much is simplified, an effort is made to speak with one voice, and other opinions are not very tolerated. People then look for an alternative. For example, on the Internet.
The focus of the book is Pilsen. But what about the whole west, which includes Karlovy Vary or Cheb? The book touches less on these areas!
Our interest was to focus only on Pilsen. But if it continues, the content will expand to the areas you mentioned, where there is a lot to register.
I'm not the only one to notice a general phenomenon: the exodus of creators to Prague. Some will stay there after their studies and others will flee Pilsen over time. I am also talking about culture in general, and of course also sport. Should we take this for granted?
It depends on the people and what they want to achieve in the profession. Sometimes, I admit, they only seem to care about money and career. And that is unfortunately not enough.
Where and when will the book be presented?
We are counting on several autograph signings, but there are also many obstacles. Today we come across them in bookstores, so we are looking for other premises. We will inform interested people of everything. – You know, we didn't expect any obstacles at this point. Rather, we thought it would help stores sell other products. Oh yes, we were wrong. Times are really changing.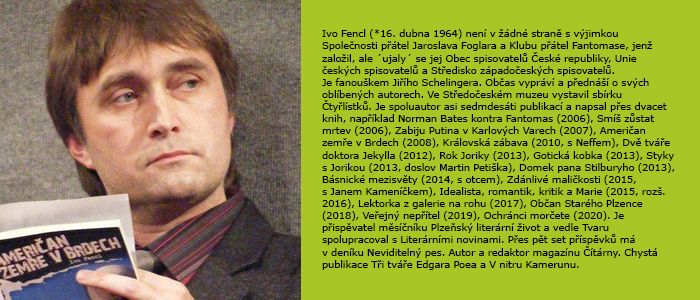 Entered by: Ivo Fencl