Tábor announced a clear goal before the season – to try to get into the Chance League. Lukáš Endál was also to help the South Bohemians achieve this goal. The famous shooter arrived in Jordan from Poruba. And it definitely worked. Hockey offspring Havlíčkův Brod shows he still knows how to do it. Moreover, it even ripens like wine. After all, this year Endál has scored 50 goals, which is his career peak.

The first important step in the form of a successful qualification is behind you with Tábor. Is this a big relief?
It's huge. The weight of the moment was familiar to most of the team. At times we were afraid to play qualifying, our legs weren't moving and the performance wasn't ideal. I appreciate it all the more that we finally got there. The strength of the team has been demonstrated.
Paradoxically, didn't you have the inconvenience of going through the season like a butter knife? What are we talking about, few matches tested you during the base game.
I completely agree. I don't want to devalue the level of the other opponents at all, but it's true that we didn't have very tough matches in the basic part. There were matches with Příbram, with Cobra. But the rest of the teams were no longer of this quality. As I say… I appreciate all the more that we succeeded in the playoffs and the qualification that followed. Another thing is that I think the qualification system should be defined differently.
What do you mean?
You have a base part that is not in quotes when the team is going well. Next comes after the playoffs, when you have four games that will virtually decide the season. You can't afford to make mistakes. You have virtually no possibility of repair. We didn't manage a third in Nový Jičín, which could have cost us the whole year. Thanks to her, we went to Dvůr Králové with the understanding that we had to.
In Dvůr Králové, you finally won after the heart attack late in the game.
It was a great match for both sides. I have to jump in front of the Court, they played for a few players, yet he was a very strong opponent. They played very well. Also, a lot of fans came and it was an unpleasant backdrop for us. We have been preparing for a duel with Dvor since the failed game in Nový Jičín. We went there thinking we would do anything to win. It was for us either or. We were lucky, but that's part of it. In any case, I am in favor of the fact that the system of qualifications and barracks is fixed differently.
"I think the qualification system should be set up differently."
Do you have a system in your head that might work?
When I advanced with Brod at the age of 18, a mixed playoff was played, in which three winners of the groups of the second league and the last two teams of the first league participated. That would be a fair way, I think. Alternatively, a straight down and a straight lead, with qualification decided by the qualifier. But to that I would add another series of matches, each with each system at home and abroad. Like I said, in the current format, a third party can ruin your entire season.
It's a fact that the mix barrage format worked a few years ago in the extraleague and, in my opinion, well.
It's like that. Another thing is that we have a chance to play for the promotion this year, but with the team it wasn't the worst. We play against Šumperk, who finished fourth or fifth from the end. I don't think he's a kosher player for the second league. We all have different budgets and different conditions. If Ústí and Šumperk fell directly into the second league, we would have the opportunity to prepare well for the first league and defend it. The same Šumperk and Ústí. In the second league, they could prepare the conditions for them to return directly to the Chance League a year later. In my opinion, a system of direct descent and direct advance would force everyone to work, which would be good.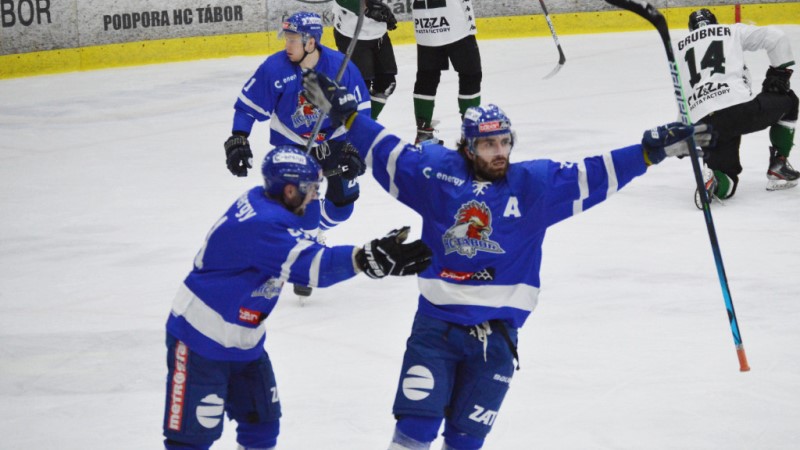 Photo: Hanka Grundová, hctabor.com
Return to a qualified qualification successfully. Did you have time to celebrate after winning Nový Jičín?
No big party took place. We thanked the fans, took photos and talked. Then everyone went home and started preparing on Wednesday when the dam burst.
Speaking of fans, the last qualifying match in Tábor was watched by 4237 spectators. Massacre, huh?
It is something unreal. When we played for the promotion with Brod, we had the chance to meet Žďár nad Sázavou or Moravské Budějovice in the playoffs, which were side-by-side teams, so there were also a lot of spectators. A lot of people also came to qualify against Vsetín. They were more than five thousand on Lapač. It's amazing that now we can experience something like this again. It helps us a lot and gives us a lot of energy. Fans also go to outdoor games with us. I believe they are our great advantage.
"We play against Šumperk, who finished fourth or fifth since the end. I don't think that's kosher for the second league."
What do you think will decide the series of games with Šumperk?
We'll see how it goes. We have great playoffs where we played good games. We trust each other. The rock of responsibility is now in Šumperk. They are professionals and they have to show us how they set it up. We will take advantage of it. We are going to play and we want to move on, but like I said… The burden of responsibility is on Šumperk. We have quality, cohesion and a large audience. It might help us. And above all, the driving force in the sense that we want to show that we have what it takes to beat the professionals in Šumperk.
Before the start of the play-offs, Šumperk did not play a competitive match for about a month. Can you imagine something like this?
I can't imagine it and I don't even want to imagine it, because it's a massacre. We played well in the playoffs and in the playoffs. I believe this will be our help. In my opinion, Šumperk will not even have time to get into the rhythm of this series. We stood between the playoffs and the playoffs for about ten days. That, too, was enough to make it hard for us to start. You can practice as much as you want, but you can't replace matches with practice.
"The burden of responsibility lies with Šumperk."
You entered Havlíčkův Brod this year as a rival. what was that?
I must admit that it was not easy for me. I lived a lot every game because I wanted to be on the winning side. Luckily people didn't give it to me, which I love and appreciate.
During the series of semi-finals, the inhabitants of Havlíčkův Brod asked you why you chose Tábor?
Nothing like that happened. People from Brod know why I went to Tábor. They want me and they know hockey life is like that. It was all the easier. It would be much more complicated if they whistled and shouted at me. Fortunately, that didn't happen.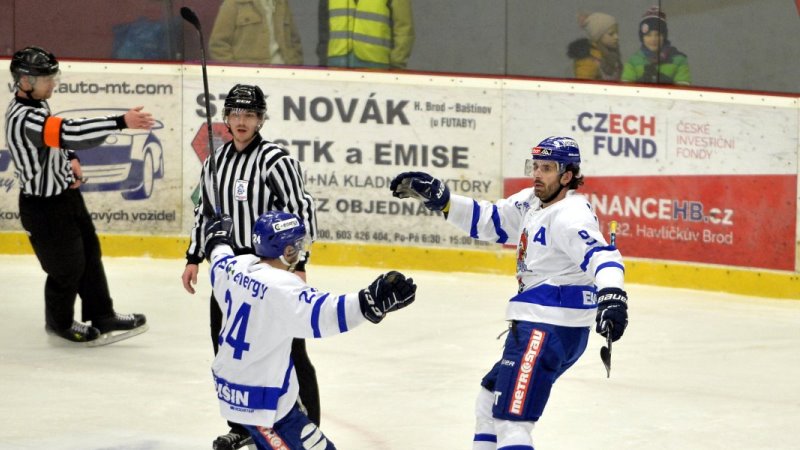 Photo: bkhb.cz
Before a series, your friend from Havlíčkův Brod, Luboš Voříšek, said that you should write to everyone in the cabin. Did you write?
Well, almost yes. (smiling) We communicated with each other and that helped me a lot so that I was less involved and could play more freely. It was fun, a smile on your face too, so awesome. Luboš later received a reward for this, so he must be satisfied. (Laughs)
Seriously?
Before the game, he had his favorite drink on the switch. Beautifully fresh. So maybe COCA-COLA liked it and maybe he was all the more excited for the game. (Laughs)
"Coming back to Havlíčkův Brod as a rival was not easy for me."
Miroslav Třetina also played for Havlíčkův Brod in the playoffs. You played against your longtime partner.
We are in contact with Míra almost every day, so I knew he would do it and play. With his style of play, he showed that he could still play hockey. He was the best on the ice. Of course, we kept snooping and heckling, that's part of it. I enjoyed it and I'm glad I got to play with him again, even if it was in a different shirt, because he probably ended his career with the last game.
Miroslav Třetina has only played a few games this season. Nevertheless, in the playoffs, Havlíčkův Brod fired. That means his longevity in hockey, doesn't it?
Definitively. Hats off to him, because he managed to play in his years. He had a minimum number of matches per season, but each time he started he was terribly famous. He was able to score goals, prepare for chances… He was the best player in the team.
But on the other hand, it's not a good calling card for young players, is it? When a veteran who cuts a few games a season can top them.
It's definitely not a good business card for them. Young people should take the example of Peace. It's just that the youngsters should want to be better than the older ones, but I don't think that works in a lot of clubs. They don't want to sacrifice hockey so much, and that's why Míra had the career he had. He always sacrificed the maximum to hockey. And even though he is already training in Telč, he has always managed to prepare well for matches.
"Hats off to Peace Third because he managed to play at his age."
You are already one of the most experienced and oldest players in Tábor. You feel it?
I don't really notice because these young guys give me energy and youth, so I feel like one of them, which helps me. So as an older gentleman I won't be coming, but of course I am. (Laughs)
But you will ripen like wine. This year, you scored 50 goals in the sum of base game, playoffs and qualifying, which is your career high.
I'm very happy about it. I really didn't expect it to work like that. But of course, it is also the merit of my teammates. I couldn't do it without them. Anyway, I'm glad I was able to confirm the role that I came to Tábor and that I'm beneficial to the team.
Didn't you get a lucky league offer during the season when it burned you like that?
Something was happening, but in the end it didn't work out, even though he was about to fall. Anyway, I don't mind. I am satisfied in Tábor, there is a great group of boys and I like hockey here. I have a smile on my face all season because we are doing well, so well. If the Premier League came out, I wouldn't mind helping someone. I could at least compare if I still have the Premier League or not. Anyway, Tábor is a priority for me. It fills me up here, and maybe it will fill me up for a long time.
Do you think Tábor is ready for the Chance League in terms of facilities?
I don't like to evaluate such things. Each team has a background set up for them. I can say that we lack nothing here. We have everything we need. And can we play in the first league? We'll see in fifteen days. (Laughs) I believe him.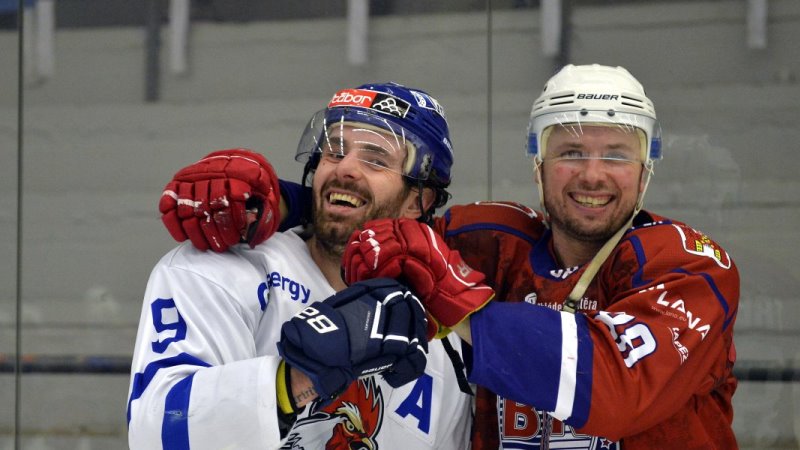 Photo: bkhb.cz
Share on Facebook
Share on Twitter