12.04.2022 7:44 | From the nets
Some people seem overwhelmed by the constant delivery of emotionally charged information about Ukraine. However, ČT24 moderator Světlana Witowská does not have good news for them. "Evil must not give up, so we'll show it and talk about it," she said on Twitter. And in the debate, which lasted until midnight and beyond, other strong statements came from her, such as that "there is no debate here" or that those who no longer want to hear talk about Ukraine have a comprehension disorder. She also said, "When someone kills children, I'm probably not ashamed to be hysterical from your (point of view)."
survey
Are you in favor of building a NATO base on Czech territory?
vote: 18801 people
Anyone who watches Czech television reports will hear about Ukraine and what Russians are actually or supposedly doing there. For some viewers, however, the repeated coverage of Russian atrocities becomes monothematic. At least this feeling is felt by the presenter of ČT24, Světlana Witowská, because she decided to explain why news about Ukraine will continue to be broadcast on the TV channel.
"I heard that there was too much TV on this war, that people didn't want to watch it anymore. The war is here because Putin attacked a democratic Ukraine and killed innocent people. Evil must not give way , so we'll show it and talk about it. It's the least we can do for Ukraine," she said on Twitter and received huge support from accounts with the Ukrainian flag in profile.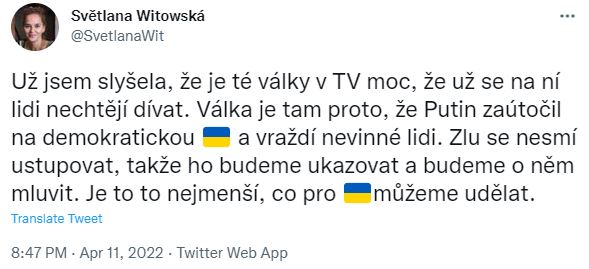 However, some people had objections, as if the news should not be balanced. "Hooray. And evil doesn't matter. So there is no debate here. Putin attacked Ukraine. Unprovoked war with the killing of civilians is his job. What is who's wrong with that?" the host asked back shortly after midnight.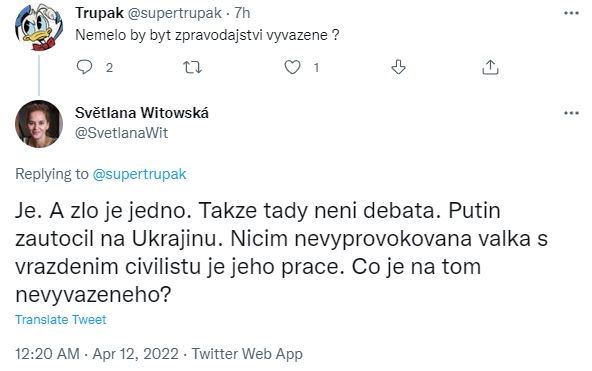 Another user criticized her for the fact that when it came to reports from Yugoslavia, they were not nearly as detailed and did not contain reports of destroyed cities and civilian casualties. "There was also no CT24, there were not so many ways to convey the horrors of war, social networks, smartphones. Twitter in Czech has been available since 2012. Do you remember this era? I do," Witowska said.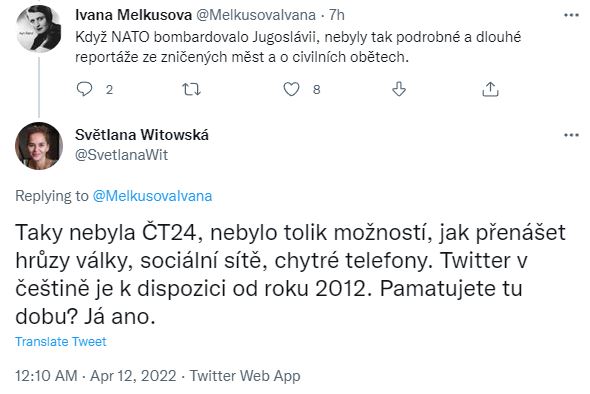 There was an objection that after a high profile covid period, some are no longer able to deal mentally with the influx of tragic news. "I don't think it has anything to do with covid. I would rather see it as a disorder of understanding", around ten o'clock in the evening, Witowska disagreed, and Josef Blecha remarked that he saw again depressed people who could not bear the grief.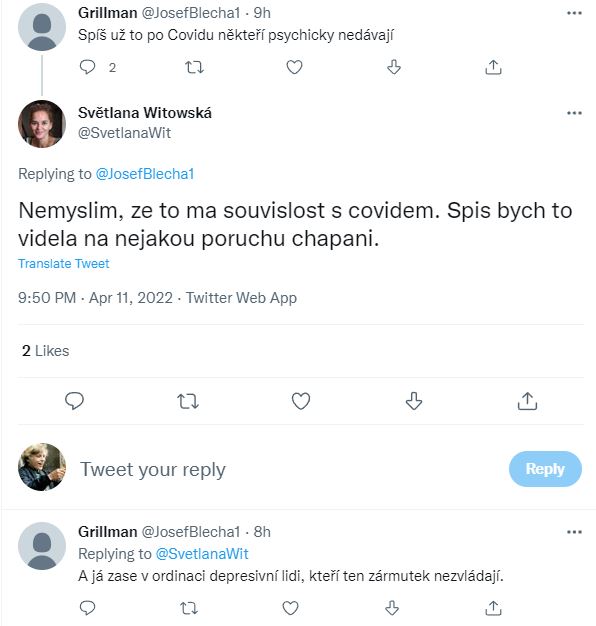 Another user also understood those who consider ČT24 news about Ukraine to be excessive. "On the other hand, I understand the people. They've been watching covid 24/7. The media beat them all over the place. Covid pulled out in the Russian war and it's back 24/7 and 7 days a week. Don't be surprised. We're just tired of beating the media. We're helping, we're trying, but we also want rest. Please don't blame people," she said. launched at Witowska.
But she disagreed. "I think Ukraine needs a break, not us. Should you go to the shelter? Are you afraid a bomb will kill you? Or do you have no water, no electricity? she asked.
"Please don't be hysterical, nobody wants to go through this. I'm not the youngest and I'm empathetic, and although I'm fully aware of what Ukraine needs, the people of our countries need positive news, at least marginally. We are not machines to help, we are also human," she tried to understand. But Witowska replied only briefly: "When someone kills Children, I'm probably not ashamed to be hysterical from your (point of view)."
"You think I don't care? You're really wrong. But I won't stop him, even if I shout here. I can't kill Putin and the powerful of this world are looking for a solution. What can I do? what if I'm writing fiery speeches here? Nothing. I was born shortly after the war and we lived through the pain of war for a long time," the old lady apparently revealed why she is trying to oppose the heated debate.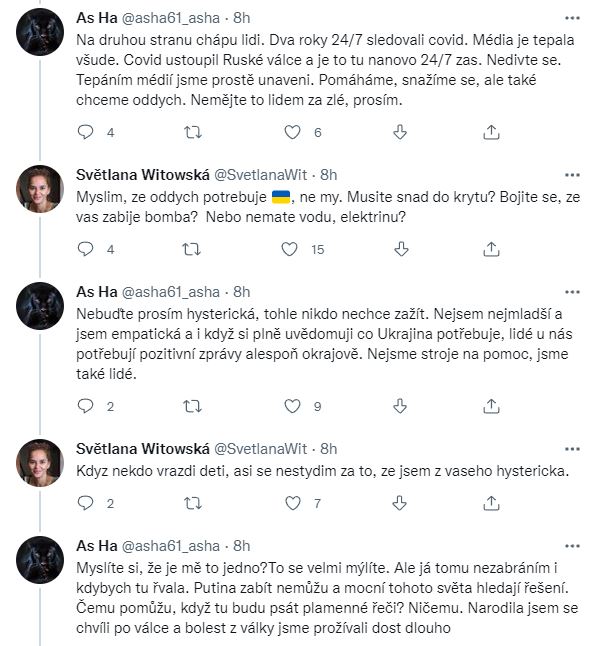 There was also an objection that Ukraine is not democratic. "I agree with the contribution, I just wouldn't consider Ukraine a democratic country. It is one of the most corrupt countries in Europe, run by oligarchs," argued "Tralalak." During the midnight debate, Witowska also answered the question of why we want Ukraine in the EU.
"Who are we? I see it as a hunt for political points on a currently 'popular' topic. What parameters does Ukraine meet to join the EU?" the person in question asked again, but Witowská replied that Ukraine wanted a "western world" in the EU.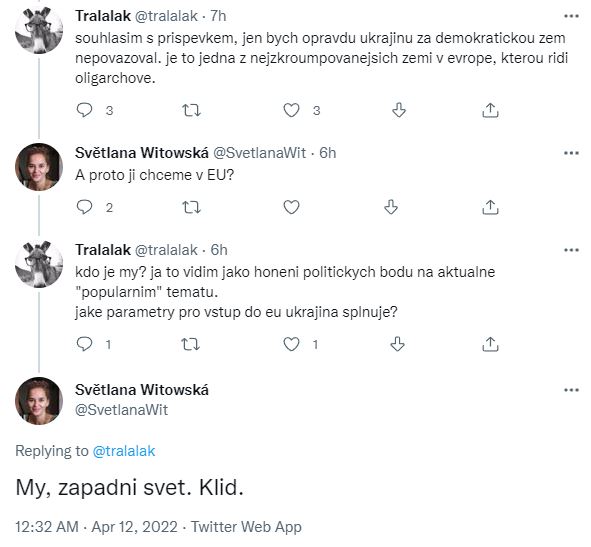 You can also support the writing of PL by taking out a subscription. We do not show ads to subscribers.
Are you a politician? Publish whatever you want without modification. Register here.
Are you a reader and want to communicate with your representatives? Register here.