SWOOD is an add-on to Solidworks software, one of the most widely used 3D CAD programs in the world, with powerful design elements and an intuitive user interface. Used for digital design and fabrication in all industries where wood or any other building material is used, this platform offers a whole new level of work, great design flexibility, shortened submission times, accurate documentation and easy modifications during the design and production process. SWOOD is designed so that repetitive routines and functions can be used for new projects.
Quick and easy 3D design
The modeling power of Solidworks software makes it ideal for demanding design shapes and assemblies.
With the help of SWOOD Design, it is possible to design furniture, its different assemblies and dimensional variants. For this, intelligent library elements, panels (with fiber direction control), connection elements, fittings, mechanisms, e.g. drawer slides from various suppliers, surface materials (laminate, veneer ) and more are used. Everything happens automatically, the parts adapt to the dimensions or find the right distances according to the parameters you have entered. When the bookcases are properly prepared, it is easy to modify, for example, the number of drawers, the size, the type of door, the fixings, etc. The libraries, generally adapted to the user, work intuitively by dragging and dropping.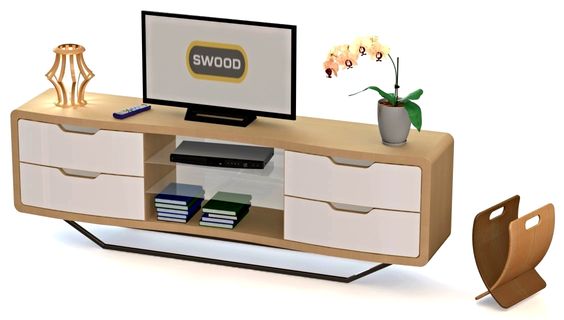 Difficult design shapes and assemblies
Furniture elements not only made of wood – welded constructions
Functions for creating weldments or steel structures are included in the Solidworks foundation. The program automatically generates a 3D weld design along with a table of individual blanks and their properties. Blanks can be cut and extended, supplemented with reinforcements, plugs, holes or other components. Associativity then ensures the current position and schedule in the drawing.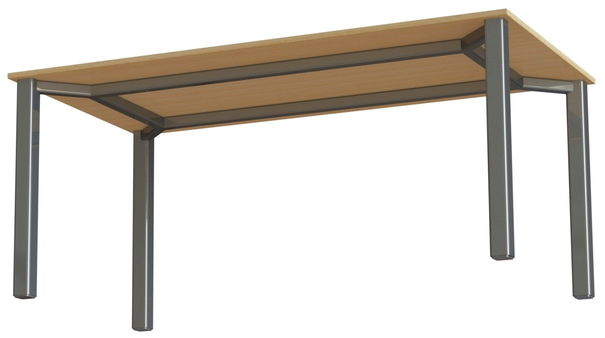 Furniture elements – welded constructions
Automatic machining with possibility of machining up to 5 axes
Another module that contains the SWOOD package is SWOOD CAM. This machining module works with all CNC machines specialized in woodworking in furniture manufacturing. It has specific technologies for this production, with multiple spindles and heads, drilling units, speed control according to the direction of the fibers, grooving or sawing. Typical is the output on CNC machines such as HOUFEK Orion or Scorpion, Homag, Biesse, Holzher, CMS, SCM, MASTERWOOD and others with the possibility of vacuum clamping output or laser sighting. The automatic geometry type recognition and drag-and-drop style of use then make programming an elegant affair.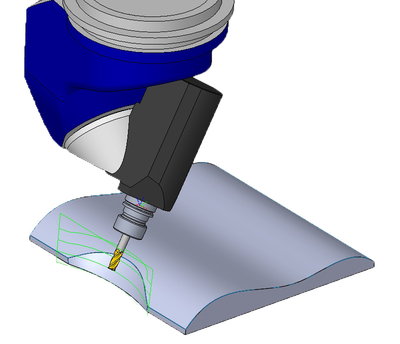 Automatic machining
Automatic creation of output documents
An important part of SWOOD is production preparation, i.e. production documentation, list of semi-finished products to be ordered, gluer data, data export for cut optimization at the sawmill or the assignment of a barcode. All of this highly automates the design and production process. For the customer's needs, interactive 3D design, advanced visualization or the rapid creation of detailed drawing documentation are useful. Once the order is ready, you can literally start production at the push of a button – everything breaks down into individual parts with documentation, production schedules, purchase orders and possibly other types of required documentation.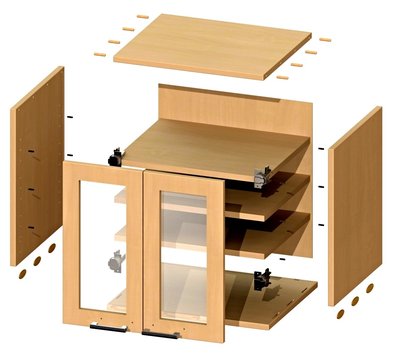 Individual pieces of hardware
Full Solidworks software
Components of the Solidworks software used for the wood industry are, for example, strength calculations, visualizations, creation of assembly instructions, which you can find out about in the next articles or at www.solidvision.cz.
New version of SWOOD 2020 and novelties that will not let you sleep
The most popular novelty of the new SWOOD 2020 version in the field of CAM is the complete machining simulation (see images below). More information about the simulation and other news can be found in the next article on SWOOD 2020.






Complete machining simulation
The author works at SolidVision as a SWOOD technician.
www.solidvision.cz
info@solidvision.cz