Thanks to many enthusiasts who bought components for 3D printers themselves and assembled them at home to print various 3D dolls, hangers, glasses or lamps, the giants of the computer world began to take care of printing 3D and began to find a way to access the possibilities offered by 3D printing, begin to implement in the industry. There was no need to wait long for the results – the benefits of 3D printing in industry are incredible if approached correctly.
How 3D printing can help the industry
The manufacturing processes brought about by 3D printing allow designers to design completely different products, as they are in no way limited by the manufacturing processes of conventional technology.
Geometry complexity for 3D printing is not an issue at all – virtually anything we 3D model is printable with any of the existing 3D printing technologies.
The delivery time of components made by 3D printing technology is shortened to the maximum – today I model, I will print overnight.
We no longer need to produce spare parts from stock, it's no problem to produce a spare part for a product that was made decades ago – I will 3D CAD model it and make it print tomorrow. And I don't have to print it with me, but they can print it halfway around the world – where I have a customer who needs the part.
We could go ahead and list other benefits, but let's look at the percentage that 3D printing brings:

If so, the question is why hasn't everyone started using 3D printing en masse…
Countless technologies and manufacturers
While 3D printing is a relatively young discipline, many new technologies have entered the market and a new "START-UP" is emerging almost every day, bringing a revolutionary new 3D printer design. Prices also vary. You can get a 3D printer from an online store at a few thousand crowns and on the other hand, you have to pay for a printer with exactly the same technology from a reputable manufacturer several hundred thousand to millions of crowns if it is an industrial printer. The devil to know. Many even met – they bought a printer with the good idea that it would save their business a lot of money, and everything ended in disappointment – the technology they bought, does not fulfill the conditions of the use they wished to make of it.
The most common errors that occur:
Error 1: Wrong technology selected
This is the most common source of problems, and for many it means that the path to using new technology has ended before it has even begun. Although buying a 3D printer seems easy, this technology is complex and evolves very quickly. Even if you do well and buy the right technology today, in a few months that technology could be obsolete. The only way to avoid this is to choose the right partner to discuss your goals and make sure your goals are met. Better to pay to test the proposed technology than to rely on the instructions in the brochure. Today there are many "CLOUD" suppliers who print your product for you.
Error 2: Wrong software selected
Most of us have in mind that already during construction we design as if we were producing according to classical methods. This is a path that will certainly not lead to the benefits of 3D printing. We must already have the tools in place to allow us to optimize our product so that that we use 3D printing to improve the properties of our product and reduce production costs. Therefore, 3D CAD software should have built-in tools to TOPOLOGICAL OPTIMIZATION. With the help of 3D printing, we can fully apply reverse engineering technology, where using today's highly developed 3D scanners, we scan the existing product or the space in which we have to place our product and load it into the CAD system. But here's the problem. Few CAD systems can work directly with such scanned data. We need special technology for this CONVERGENT MODELING.
In addition to all the benefits that 3D printing offers, there are limitations to this technology, and the software we use must be able to verify that our 3D CAD design is suitable for 3D printing.
Error 3: Tolerance
We have to be aware that 3D printing works on a different principle than conventional technology, that we cannot expect the product we print to meet the tolerances we are used to in traditional technology. Although renowned 3D printer manufacturers already have great potential, it would be best to order your product ONLINE and check that the chosen technology meets your requirements. Additionally, heat is often involved in 3D printing technology, leading to thermal distortion and shrinkage. It will be much cheaper to use software to simulate the behavior of the product during printing than to define the correct parameters by trial and error.
Error 4: post-processing
Since the beginning of the use of CNC machines, we are all accustomed to the concept of POST-PROCESSING and we know that it is a process in which we transform the movements of tools generated in the CAM software into commands that the CNC machine control unit includes. Usually, POST-PROCESSING is not a problem in CNC technology – it is the software we start when we complete the program preparation in the CAM software and transfer the generated code to the machine control unit . Thus, we performed this process without any problem.
3D printer manufacturers have borrowed the term, but it has a whole other meaning, and even worse, it's not at all as complicated as with CNC technology. All 3D printer manufacturers are happy to state how fast their printer will print your part, but they don't say that you will then need to mechanically or chemically remove the supports, or that you will need to chill the printed part for 12 hours or more. . For some technologies, you will need to dust with a special device. All of these things you need to do after 3D printing are called POST-PROCESSING, and few manufacturers find information on POST-PROCESSING. Be careful – don't forget to check what POST-PROCESSING involves for each technology.
Mistake 5: Metals, metals and only metals
classic technology to which we are used to using mainly metals. Especially for the various clamps, fixtures, clamps and other aids we need in production. Therefore, often when you ask the production manager about the possibility of 3D printing jigs or clamps, the answer is clear – it is not possible with us, we need them in metal. Is it true. Most of them are still conventionally made from metal, so many people are primarily turning to 3D printers that print from metal. However, experience has shown that it is very efficient to use the now widely available FDM printers solely for the production needs of clamps and jigs. Today we already have so many different thermoplastic materials to use in 3D printing that even the most wary are convinced that sometimes it is beneficial to use thermoplastics instead of metal. If you really don't need to print from metal, don't insist on buying a metal print printer. This technology is definitely coming, but so far it is very expensive to print the simple tools that we need for the daily production process.
Mistake 6: We print everything
3D printing has been used in practice for 25 years and well-known companies have already replaced many conventional technologies with 3D printing. But they invested a lot of money and manpower to find the right 3D printing application. It's a mistake to expect someone to buy a 3D printer today and start printing their products without any problems. On the other hand, waiting and doing nothing means that it may happen that the competition that has started using 3D printing technology produces much faster and much cheaper.
Siemens Additive Manufacturing Network
Siemens is undoubtedly one of the biggest industrial players and innovators. In addition to providing comprehensive software to support 3D printing applications, it has taken a big step forward in bringing 3D printing technology closer to everyone who needs it. At the world's largest 3D printing fair FORMNEXT, held in Frankfurt in November 2019, SIEMENS announced the launch of the CLOUD platform:
Siemens Additive Manufacturing (AM) Network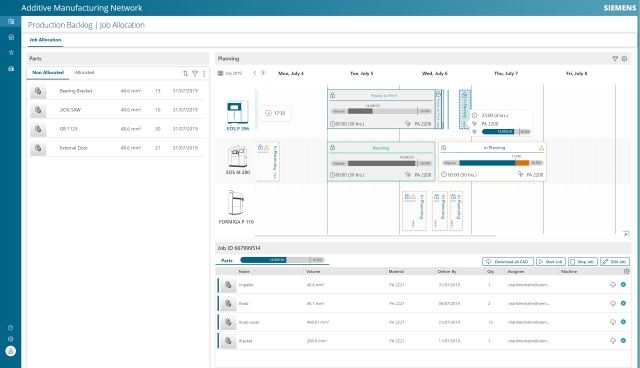 This platform allows anyone wishing to get started in 3D printing to connect with those who can provide them with services related to 3D printing, ranging from services related to the right choice of technology, to the optimization of the design associated with the use of 3D printing, up to the prototype order. and smaller or larger series of 3D printed products, all over the world. This platform removes barriers to the wider use of 3D printing and significantly reduces the risk of wrong investment in 3D printing.
Many well-known 3D printer manufacturers and companies that deal with 3D printing themselves or specialize in designing products for 3D printing are already registered on the platform. This decision by Siemens may be a major boost in the expansion of 3D printing technology in the industry and may represent a new trend that will be followed by other major players.