More than 56,000 Ukrainian children between the ages of six and fourteen received special visas to the Czech Republic. Schools set up single classes for them or integrate them into regular classes. This is also the case for children admitted to a primary school in Lukov in the Semily region. They ran straight from the shelter and didn't have time to take anything, so the school organized a collection for them. They immediately found friends there. Nevertheless, he longs the most to return home.
"Hello, how are you today?" Kristián, a fifth-grade student, asks his classmate. "Okay," replies Mykyta, 11, after a moment of hesitation. They do not yet understand more complex sentences. Kristián speaks Czech, mykyta Ukrainian. Therefore, they usually communicate using a mobile translator. And sometimes they don't even need words. For example, they like to swing together on a swing.
"My friends are best friends, I go with her to school. It doesn't seem strange to me to study with someone who doesn't know Czech," says Kristián. After a few days at school, Mykyta learned a few basic phrases: "Where is the dining room, where is the toilet, where is the changing room, goodbye," he says.
Kristián has a total of five new classmates, although the rest are in other classes. Children who fled their parents from their wars before their war were accepted by Krakonoš Loukov Elementary School in Semily. Mykyta came with her mother Olena Sajenkova. Mykyt's cousins, Andrei and Tymur, and her mother Kristina Sajenkova also fled Ukraine with them. The two families fled the town of Ochtyrka in northeastern Ukraine. Two children from Odessa then joined the Lukov school.
The beginnings were difficult for the Sajenko families. The children and their mothers fled Ukraine after spending two days in the shelter only in the clothes they were in. Nothing was enough to take. The children had no school supplies or spare clothes. In Lukov, the village and school management helped them.
Children who started going to school in the Semily region, accompanied by their mothers. | Photo: Jakub Plihal
The school director, Petra Bůnová, bought the children sports shoes, slippers, snack boxes and school supplies. "I announced the collection. The children of the house brought clothes, school supplies, backpacks, pencil cases, there were a lot of them," he describes. According to her, the new children were not too ashamed, and the pupils of the Lukov school immediately accepted them well. "The children barely changed, and their classmates were already standing on the doorstep, wanting to meet them," says Olena Sajenková.
"It's good here, but I want to go home"
Nevertheless, most children would like to go home. "It's fine here, but I want to go home. I was doing karate in Ukraine," said eight-year-old Tymur sadly, recalling his favorite sport. At headquarters, he sits on a colorful sofa next to his mother, Kristina. In the darkness of the director's office, the journalists of Aktuálně.cz watch with red eyes and take a deep breath.
The day before, he came home from school sick, scratching his throat and has a slight fever. Despite everything, he is the first to speak of Ochtyrka's escape in a growling voice. He knows exactly when he fled with his family. "We left our hometown on February 26," he recalls.
His eighth-grade brother Andrej also praises how his new classmates received him. "I did not expect such a warm welcome. I like everything here, the school is good, I was surprised by the assessment in five levels. I like mathematics. 'now," says Andrej. He went to jiu-jitsu in Ukraine. And like his brother, he wants to go home as soon as possible. "I especially want the war to end, I want to go home, I want to go to Ukraine, I was born there, I went to school there for the first time," Andrei says sadly.
Teachers chase Russian words
According to Hana Lukešová, a first class teacher, it is still difficult to communicate with children. "We hunt Russian words, we learned Russian thirty years ago. Often we don't understand each other, but most of the time we somehow communicate, we learn from each other ", he says. However, teachers do not know what materials to follow with the children or what textbooks they have used.
Artem from Odessa goes to his class. "But he couldn't continue with his peers until next year. He can't speak Ukrainian or Czech letters," explains Lukešová. Teachers, for example, decide whether children should teach Czech from scratch. "If he returns home within six months, it's no use," says Lukešová.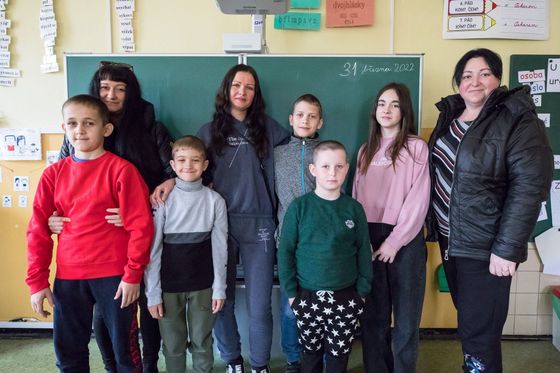 From left to right: Mykyta, Olena, Tymur, Kristina, Andrej, Artem, Valeria, Olena | Photo: Jakub Plihal
According to Minister of Education Petr Gazdík (STAN), Ukrainians recognize very well that they are not pushed towards Czech lessons and that they learn Czech too early. "They still believe they will return home in a few months. I would really like that, but all migration theories say something a little different," Gazdík told Czech television.
A long way to Prague
The Sumy region, in which Ochtyrka is located, is only an hour's drive from the Russian border and became one of the first to be attacked by the Russians. The capital of the region, the ancient Cossack fortress of Sumy, attracted tourists to the cathedral or the museums and picturesque parks that surround them. Since the end of February, they have faced Russian attacks, during which people, including children, have died. The Russians are also targeting civilian buildings, including single family homes. They've already razed most of the city.
"The day the war started, the neighbor went out to look. They still can't find him. The explosion probably tore him to pieces," says Olena Sajenková. Ukrainian President Volodymyr Zelensky described the situation in Suma – with Chernihiv, Kharkov or southern Ukraine – as very difficult.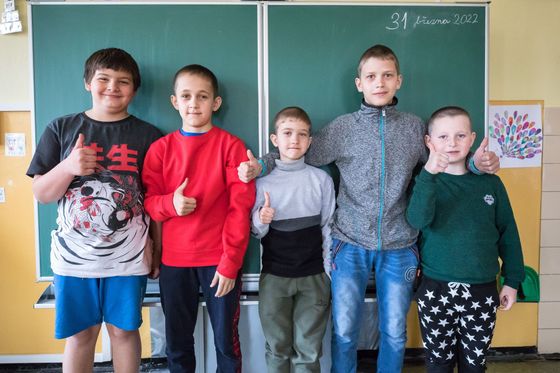 Kristián (left) with his new friends from Ukraine. | Photo: Jakub Plihal
The Sajenko families therefore hid as soon as possible in a shelter in the cellar, where they spent two days. The wives of the two women agreed that they should take their wives and children out of the occupied area. "The couple heard a warning that if Ochtyrka did not give up, Russian soldiers would raze the town with rockets in three hours. They escaped with the children to what they were in the shelter, nothing was enough to take away.
In the first column, however, women had to say goodbye to their husbands, just as other men remained to defend their homeland against Russian aggression. "It was just a walk to get to the border immediately. Time passed differently. After almost two hours of walking, we were picked up by a car heading for Romania," says Olena.
Winter has hit. In Romania, they spent the night in a tent in the cold for two days. Frozen women and their children were waiting for an acquaintance to come to them from Prague. However, the two-day wait did not pay off, the man finally canceled the transfer to Prague. "We were ready to pay the last money just to finally get out of there with the kids," says Olena.
The volunteers finally bought a bus ticket to Prague for the women and children. There they registered at the refugee support center and the volunteers then transferred them to the Liberec region, where they got free accommodation and meals in a boarding house in the Semily region.
The women are now trying to start a new life in the Czech Republic. They want to start working as soon as possible, so the children started going to school almost immediately. The two families live together in the Liberec region, they don't have a car. Although the women have already received a few job offers, they are all far from being able to commute every day. Although they like it in the Czech Republic, they only hope: "We want to come back. If someone told us today that we could come back, we would leave now", adds Kristina Sajenková.