Fallen tiles, shattered windows or holes in the plaster caused by bullets are now commonplace in many medical facilities in Ukraine. Women give birth in shelters and people don't see doctors unless it's a very serious situation. In several cases, hospitals have even been the target of Russian attacks, according to a Ukrainian think tank. According to him, the Russian army targeted at least 76 of them.
Milena, like dozens of other children, was injured during the Russian invasion. However, the family managed to take him to a children's hospital in Zaporizhia, which receives refugees from Mariupol, which is now almost destroyed. The hospital bed, where the little girl lies while she is hooked up to the instruments, is right next to the window. But Milena cannot see the sky or the life behind the walls of the room. The window is all boarded up with sandbags.
"No hospital is safe," Pavlo Kovtonjuk of the Center for Public Health of Ukraine think tank told Aktuálně.cz. Together with his colleagues, he collects evidence of Russian attacks on Ukrainian hospitals and paramedics. They are also cooperating with legal teams in The Hague, who are trying to prove to the International Criminal Court that Russia is committing war crimes.
From the start of the war until Monday, March 28, Russian forces directly attacked 76 hospitals.
Russian troops continue to fight against Ukrainian health care as if it were the army. 76 hospitals have been attacked so far. More than half are in three regions: kyiv + oblast, Kharkiv and Luhansk oblasts. Most of the damage resulted from the shelling of civilian areas. pic.twitter.com/fhzhVapAQz

– Pavlo Kovtoniuk (@pavlokovtonyuk) March 28, 2022
"Hospitals are often attacked because the Russians bomb civilian targets and try to destroy entire cities, and there are hospitals. But we have documented several cases where the hospital was a specific target," Kovtonjuk said.
The children's hospital and maternity ward in Mariupol, southern Ukraine, has become a symbol of Russian aggression. Three people, including a child, died during its bombardment and 17 other people were injured. Photos of pregnant women taken from the destroyed building on a stretcher have also appeared in foreign media. "There are few things more evil than targeting the vulnerable and helpless," British Prime Minister Boris Johnson responded to reports of the raid, for example.
Mariana Višegirská, a pregnant woman fleeing a maternity hospital in Mariupol. | Photo: CTK
Kovtonjuk says that similarly, Russian troops tried to attack kyiv's children's hospital in February, but Ukrainian air defense managed to shoot down the missile.
Ambulances shot down
Pediatric surgeon Jan Trachta, who has been cooperating with the association Médecins Sans Frontières for more than ten years, stresses that this is not a new phenomenon. Hospitals and doctors have been attacked during the war in Yemen or Syria. "Local hospitals and Doctors Without Borders hospitals were attacked. They killed our last pediatrician in Aleppo. It is true that Russia in particular is extremely aggressive in this area," he added.
More than half of the destroyed hospitals are located in just three Ukrainian regions: around Kharkov, Kyiv and Lugansk.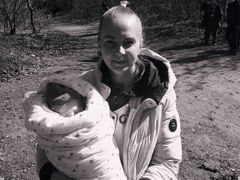 Doctor Viktorija with a small newborn trying to get to the hospital in kyiv. | Photo: team of doctors from Chernihiv
"Just yesterday, my colleagues from Kyiv sent me a picture of how the rocket hit the hospital," said Kateryna Vandychová of the Czech Center in Kyiv, which coordinates humanitarian aid for hospitals. who have cared for premature babies since the beginning of the war.
Vandych is also trying to collect testimonials from paramedics across the country. For example, Dr. Viktorija, who cares for newborns in Chernihiv, northern Ukraine, spent his week on internship at the University Hospital of Olomouc three years ago. The Chernihiv maternity ward was also bombed, and although it was partially commissioned and repaired, the water and heating still do not work.
A hospital in Chernihiv, where mothers with newborn babies stay in an underground shelter. | Photo: team of doctors from Chernihiv
"My workday started on February 24, 2022 and continues to this day. I am still in hospital," Victoria explains. During this time, more than 134 children were born at the maternity ward with the silence of the sirens.
As Vandychová points out, the number of mothers giving birth prematurely increased during the war due to the ever-present stress. They and their children are the most in need of medical care. "Premature babies desperately need oxygen, but there is a lack of it," added the doctor. Children for whom this is only possible are therefore evacuated to kyiv, which is extremely dangerous because the Russians are also bombing the roads and attacking the paramedics. In addition to the testimonies of the doctors themselves, photos of shot down ambulances also prove this.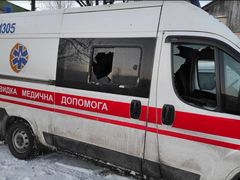 A Ukrainian ambulance shot down in the town of Derhachi near Kharkov. | Photo: Material from the Public Health Center of Ukraine
"I personally evacuated the newborn. As the occupants destroyed the road bridge, the babies had to be carried over the pedestrian bridge to the other side of the river, where a car was waiting for them for another transfer ", explains Viktorija.
Mothers with children who stay in Chernihiv are transferred to the shelter immediately after birth, where they wait until they are discharged from the hospital. In many places, however, women give birth directly in shelters.
"During the war, doctors have to start working completely differently. You have to do with little. There is a lack of personnel and equipment and you just have to improvise," says Dr. Trachta, referring to his experience of missions. foreigners in Syria. or Yemen.
Too many hospitals
Vandych and Kovtonjuk think Ukrainian doctors are handling the situation extremely well so far. "Most of them are just behaving normally. They don't have time to be scared or cry or break down," she said in a video call with a slight smile.
However, the situation is complicated by the Russian bombardments. Even the agreed humanitarian corridors of besieged towns such as Mariupol have been bombed. So people can't get out and help can't get in anymore.
International organizations such as the Red Cross have therefore set up their first aid tents on the Russian border, because the inhabitants of Mariupol can flee in this direction. But Kovtonjuk finds this outrageous. "They're acting like a flood, but it's not just a humanitarian crisis. It's a war caused by Russia, and they're helping it."
The paradox is that a number of medical centers close to the front also take care of many Russian soldiers. The director of one of the hospitals near the southern Ukrainian city of Mykolaiv confirmed that he was treating many Russian soldiers who left their troops when injured in the fighting.
However, Kovtonjuk adds that the war has turned one of Ukraine's biggest weaknesses into an advantage. There are still a large number of hospitals in the country from the times of the Soviet Union. It is not effective under normal circumstances, resources are fragmented and quality care too. For the moment, however, it provides the country with enough beds and space for the wounded. Although during the bombings they are more like cellars and shelters directly under hospitals.
Video: The Russian Air Force bombed a children's hospital in Mariupol
According to the local police, many women were injured and killed during the Russian attack on the Mariupol hospital, according to the Unian agency. | Video: Twitter / Aslan