Photo: Daniel Klement, hc-olomouc.cz
It matures like wine. Olomouc defender Jiří Ondrušek has had the most successful season of his career. In an interview, Hanák's defensive team discusses elimination in the preliminary round and the contribution of David Krejčí. Michal Kunc was interrupted by his teammate for a moment, but he congratulated his captain.

This season, Jiří Ondrušek has collected 31 points, which is a big number for the defender. Moreover, since he is celebrating his 36th birthday.
Even though Olomouc played the preliminary round, captain Mory was still not very satisfied. He wanted more, the secret dream of the Hanaks was to continue.
Stopka came against Vítkovice, the series was decided by the fifth game. "It was clear that the fans enjoyed the season and congratulated us, although I personally think the year brought more failures than successes," says Ondrušek.
"So I can't give a completely positive assessment of the season as a whole. But we didn't misinterpret this conclusion. It's a shame we didn't go further," he regrets.
Could you divorce?
So we played well in the first quarter. We recorded points, which then occupied a decent position in the middle of the table. But then the game was no longer ideal. Every time we made it through two games, for example, and it looked like we were starting to pick ourselves up, the downhill would come back. Well, that lasted until about February. As a result, it was such a painful year, where we lacked a longer section where we would play well.
"I personally think this year has brought more failures than successes."
In that regard, the match against Kladno was important for you, wasn't it? After all, if you couldn't stand it, it would catch up with you. That's how you bounced off him.
It's true that everything was with Kladno and in the end we won. However, two to three rounds we had them on our backs again. So we wrote to them about three times that it would be quiet, and suddenly they got up again. (smiling) Nobody believed them anymore, but they still fought for the playoffs until the last moment.
In the end, however, you moved on to elimination fights and Vítkovice was waiting for you. It was a very balanced series and we can probably agree that the happiest won…
To tell you the truth, I haven't fully attempted defeat yet. I don't think we should have given up, however, as you said, the best did not win, but the luckiest…
On the other hand, it was very interesting for the eye of the spectator. After all, there was everything – fights, beautiful goals, great events on both sides…
So I think that's what the fan wants to see in the playoffs. There is nothing to save. When you get hurt, you have to take care of it all summer. Thus, each team goes all the way. It's a shame we didn't do it at home. We could have partied in front of a full tinsmith, but in the end we were done.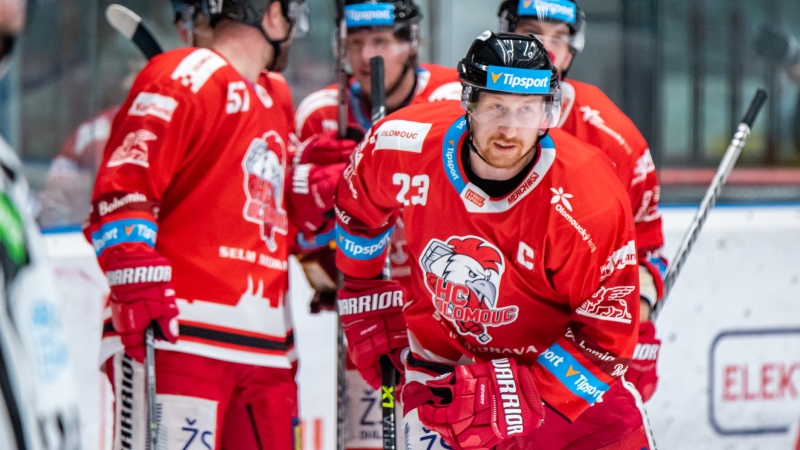 Photo: Daniel Klement, hc-olomouc.cz
So, did the fourth game where Vitkovice made it particularly important for you? After all, even in the first duel you painfully lost your victory, when at first you did not get a goal in extra time, after which the Ostrava team won.
When I remember all those games, of course, the moment when you celebrate winning overtime and finally come away defeated, it's not the best. Then we won twice in a row, but the fourth game didn't work out in the end, and that probably decided. However, it is necessary to play sports, it probably should be.
Have you ever experienced a similar situation? After all, you score a goal, you're in the euphoria, and suddenly a coaching challenge comes along and the goal doesn't pay off.
I haven't experienced it, after all the challenge hasn't been there for so long. If it wasn't for us, we'd probably move on. (smiling) However, if the judges saw that the goal didn't pay off, then that's fine. It was a contentious situation that could probably be assessed by both sides and would be defensible. They decided how they decided, and like I said before, that's probably how it should be.
"It's true that the media always automatically move us to the barracks. I always laugh about it in the summer."
Due to the fact that most of the hockey public belittles you before the season, you managed to play at least the preliminary round for the fifth time.
It is true that the media always automatically moves us into the barracks. I always laugh about it in the summer, I wonder how many journalists who write these forecasts actually go to hockey. I don't know if they just look at lists or spreadsheets or why they actually create them. (Laughs) However, it does us good, at least we always surprise. (smiling) Maybe that's better than being placed in the top four and then fighting for a save. Every season is different and I think the next one will be more successful.
It's probably good for you that you can play even more relaxed, when you don't have much to do before the start of the season…
When you're not under such pressure, it's definitely better. The moment you lose once or twice, you take it differently in that situation than if you were under constant microscope. The worst games in this regard were the games with Kladno and Zlín, when fans expected compulsory points. However, these teams are equal, and even if they have a crisis and are bottom of the table, they do not have the personnel to lose every game by class difference. So it's not easy at all.
"Tailor?" His arrival has improved the quality of the whole league. It is also good that we have been written about us elsewhere than in Olomouc and that interest in our club has increased. »
The most important event of this season was undoubtedly the return of David Krejčí. How do you rate his benefits for the team?
It was great. We who have played with it and the fans have enjoyed it. His arrival has improved the quality of the whole league. It is also good that it has been written about us elsewhere than in Olomouc and that interest in our club has increased. On the other hand, it is a pity that the Covid and the associated measures came into play. When the number of spectators which, thanks to Krejč, filled the whole hall, decreased, we suddenly stopped doing well in terms of results. Their presence is extremely important to us.
How was the season for you? You signed a new contract here last year and it was said that you age like wine… (At this point Jiří Ondrušek turned to newcomer Michal Kunec)
YEAH: Mischa, they say they ripen like wine. Is it true?
MK: Well, it's clear, the older the wine, the better. And you are exactly like that.
Question to Michal Kunce: How is the captain of Jiří?
MK: Well, I prefer to go there. (Laughs) But no, he's awesome. I won't distract you anymore, so you can have peace.
"The older the wine, the better. And that's exactly what you are."
We should also mention outgoing coach Zdeněk Moták. How do you live the fact of not being trained next season?
We wish him. I hope he will succeed, he is a fair man. He had a close relationship with us, he let us in, but again he was able to maintain a professional approach.
You say you were close, but he took it professionally. So you didn't bother?
No never. Honza Švrček stopped him as much as possible from time to time when he was thrown, but it was not allowed. (Laughs)
Jan Bambulu and Jakub Navrátil received an invitation to the national team. Have you ever set special fines?
The treasurer is Honza Kána and I have to register him. As soon as we're done together, I'll make arrangements with them. He will definitely pay something. (laughing)
But it should be noted that they probably got it rightly so. Especially for the end of the season.
It's definitely deserved. They played, helped the team and were excellent. Now they have been invited to a camp, where I think it will bring them something and maybe they will have the chance to play a match. They are where they are young and this opportunity is sure to push them to play even better.
Would you accept an invitation?
I'm a slightly different year, so I'm not expecting that. (smiles) Personally, I can't wait to go fishing.
"So my fiancée and I are expecting a son, so I'll go fishing a few times and then push the stroller."
So you fish? And or?
Shumutov. I like it there. I prefer carp, throw my fishing rod in the water and rest. It's an ideal form of post-season relaxation for me. Other techniques such as dredging or fly fishing do not suit me. I need this chair, a snack and a look up. (Laughs)
And what are you planning for the summer other than fishing?
So my fiancée and I are expecting a son, so I'll go fishing a few times and then push the stroller. (beaming with joy) I can't wait to be there, we did well in time. This will be another chapter of our common future.
You already have a child. Does he also play hockey?
Yes, he is playing for the third year now. Let it move too. (smiles)
And did he in any way evaluate the way his father played?
He takes it for granted. If I didn't play hockey, he would probably experience it more, but that way, when it's part of his daily life, he doesn't care much about it.
Photo: Alena Zapletalová, hc-olomouc.cz
Share on Facebook
Share on Twitter