His paintings act like shots in the middle of films, where the viewer has no idea what came before or what is to come. The South Bohemian Gallery in Aleš opened the Concrete Garden, the first major solo exhibition of 37-year-old Jakub Janovský.
"A lot of my peers cringed there and broke their legs," he says in front of a flaking metal structure in the shape of a globe, inside which is a concrete statue of a boy. It is one of the climbing frames that were found in open spaces and playgrounds during socialism. "That globe wasn't as deadly as a bridge. It was supposed to be crossed, but of course it was chased, sometimes someone failed and bumped into certain games," he recalls.
Jakub Janovský has transformed the neo-Gothic hall of the Hluboká nad Vltavou castle riding hall, where the exhibition takes place, into a fantastic playground. Just that instead of making fun of children, it sounds like the sound of an old television, which is part of the setup.
The exceptional parade of the Russian avant-garde has been replaced by scenes of adventure, veiled nostalgia and hidden danger. Betonová zahrada is the largest personal exhibition of the author, who was born in Jihlava and has lived in Prague since his studies at the Academy of Fine Arts.
He also supplemented his paintings, collages and enamels for the first time with a complete series of sculptures. "I wanted the actors to come out of the paintings into the space and there was a communication between the painting and the statue," he explains. He started working with clay more intensively about two years ago, and his sculptures are impressive to say the least, especially since he is a self-taught sculptor.
The concrete garden is an allegory of childhood spent in the middle of a jungle of panels. At the same time, it can be read as another of the symptoms of the revaluation of 1970s architecture. "I grew up in a building like my grandparents, with whom I spent a lot of time. was our childhood, I lived it", Janovský looks around. "And partly that's my coming of age," adds one artist from a generation that no longer understands panel housing estates as "rabbit houses."
Today's 30-somethings have discovered the magic of austere but functional architecture. They remember with nostalgia the works of art that adorned the nascent urban ensembles, seeking out and admiring the faded "intruders and herons" during guided tours.
According to Janovský, standardized game elements, such as globes, "aces", bridges and other climbing frames, also have the same quality. "They tend to be big, but at the same time subtle. They're cleverly inserted into the environment, they work seamlessly, and that's why they take bad pictures," he praises the elegance of the buildings made of thin metal tubes.
Image from the Concrete Garden exhibition. | Photo: Tomas Rasl
Decapitation with a playground
Next to the globe with a boy hangs a discreet black and white image of a girl staring at a concrete ring filled with water. The canvas is called Aldo after a well-known Dutch architect of the 20th century, an eminent figure in structuralism. Aldo van Eyck became famous, among other things, for his complex playground constructions, and it is in his work that Janovský sees the roots of standardized playgrounds, which began to develop in Czechoslovakia during the mass construction of housing estates .
"There were several approaches. One wave of inspiration came from the East, another from the United States. Richard Dattner, for example, designed excellent climbing frames. National industrial designers chose elements which had been tested overseas and tried to put their own artistic value into them. .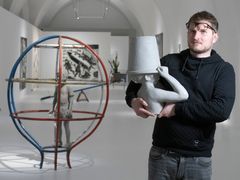 Artist Jakub Janovský. | Photo: Tomas Rasl
According to him, modern game elements no longer carry these qualities. "Today's wood and plastic constructions try to be as safe as possible. But they're powerful, they lack playfulness and a moment of surprise," he says. According to the painter, the feeling of security is illusory anyway, and it can go unnoticed.
"A child can climb the stairs anyway. A parent can't stop it at all. Children should be in danger of living it and living it. If they don't, they won't know where is peace", says the artist, whose paintings serve as executioners. Although the blood does not flow from them, the pain only indicates, the connotations are still sometimes brutal.
"I liked the inverted letter U, it has a hole in the middle that you can crawl through. So we played in it for decapitation. It was a great guillotine," smiles Janovský. He painted a similar scene in 2019 on a canvas called When it rains and dries. He is currently on view as part of the group exhibition Promising Prospects at the DOX Gallery in Prague.
Is she dead or just sleeping?
The theme of playing on dangerous ground has accompanied Jakub Janovský for years. As a child he doodled heroes for children, during his studies in Prague he moved to the studios of the now non-existent collective Trafačka, after which he took over the post-industrial landscape of Prague's Vysočany and its surroundings. He searched abandoned factories, painted in demolition areas, and sometimes security guards let him go.
He created street art to stay hidden in buildings to be demolished. Whether demons, tattooed, human-looking creatures, or other surreal creatures, his passion already showed a passion for the figure. This is still crucial for Janovsky. In the Concrete Garden, he plays with details that can change body language, and therefore the whole story.
Image from the Concrete Garden exhibition. | Photo: Tomas Rasl
"Originally, she had both hands joined on her chest, but in the end I stretched her right one along her body," she says above the statue of a young girl. whose face is covered by a large book. He designed the Sleeping statue as a paraphrase of funerary sculptures that appear exceptionally on tombstones, but "so that she doesn't look completely dead, I put her in a relaxing position with the book and I may have lightened the tone.
A dimple in the floor can be seen next to the concrete girl, as Janovský managed to knock the original cast onto the floor. "The crack went through his heart. It looked good, but it would just be another element of destruction, unwanted in this case," he tries to explain the edge on which his stories diverge every which way. . Thanks to this, the public often offers him interpretations that he did not think of at all.
Only two paintings in the exhibition show the faces of the characters. Children are dressed in space suits, cover their faces or stand on their backs. As if the images were imbued with an all-pervading radiation, perhaps radiation, but definitely a premonition of something bad. The author was born two years before the explosion of the Chernobyl nuclear power plant and, as a millennial, he mostly remembers Cold War anxiety indirectly. In his work, however, he articulates it on specific memories and artifacts.
"I've cleaned mushrooms there, I've climbed it, I've known it since I was young. When we demolished the chalet last year, I discovered it after many years," he says of the stool that dominates the exhibition's promotional material. "It comes from Klobouček near Bučovice in Moravia, where my great-grandmother lived. My mother didn't want to give it to me, so at least I had to draw it myself in enamel," he explains. .
Other works also carry specific memories. Old Age Television appears three times in the Concrete Garden. The canvas called Monoscope recalls a geometric pattern that served to adjust the screen, but rather functioned as a symbol of the end of entertainment. "Television was a reward," Janovsky recalls seeing the monoscope the morning before Fairy Tales.
Elsewhere, he uses television as a symbol of cheap entertainment; "It's an illustration of the emptiness of the mass media, which is a bit cliché," stops the painter. "But there's really nothing on this TV," he shrugs.
To lighten the scene a bit, he painted a decorated blanket over the blank screen. "My wife's grandmother always has a white television at home. To stop her from sprinkling on the television. Because the television is an expensive device," he said.
Sand the memory layers
Another stretching motif for Janovsky's work is the revival of things to be written off. Whether it's knocking down walls, collages of torn billboards hanging in Hluboká on authentic 1970s retro wallpaper, or crumbling shoes. He's been wearing them in the studio for years because he can't throw them away.
In recent years, Janovský has become a collector, seeking out old iron coins through every possible channel. He cut out and ground the globe, which is the visual center of the exhibit, somewhere. "I wanted to go back to the original color and experience the layers of memory. Like the paint in the old barracks, where you can go from light green to apricot and beyond."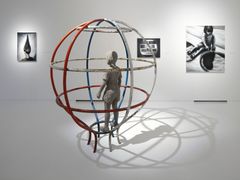 Image from the Concrete Garden exhibition. | Photo: Tomas Rasl
He bought a smaller playground, on which he hung trousers and a T-shirt wrapped in colored plaster in Hluboká, from a woman in Prague's Braník district, whose children had already grown up. "But the vast majority slips through my fingers and ends up in a landfill. For example, last year I found two structures in Černý Most, and before I knew who they belonged to, they were gone," recalls- he.
A similar fate befell the carousel of the Zahradní housing estate in Jihlava. He is caught in a video loop on an old television at the entrance to the room. "As soon as we shot, they cut it right away. He had been there for over 40 years and suddenly he disappeared. I found it scary," he recalls.
The Concrete Garden exhibition can therefore also be seen as a repository of colorful structures, on which at least two generations have played and touched danger. Jakub Janovský plays strong stories in these settings without feeling the slightest trauma.
"Nothing happened to me, because I was a very intelligent child," he laughs. "But my brother once climbed on a clothesline rack and hung on one of those hooks behind his wrist," he adds, glancing at the Camp Salute canvas, showing the boy with his hand in plaster.
Exposure
Jakub Janovský: concrete garden
(Organized by the South Bohemian Gallery of Aleš)
The castle riding school, Hluboká nad Vltavou, the exhibition will continue until June 5.