In the interview you will read, among other things:
How does intelligence work in wartime?
Why did all Independent Kyiv's emergency plans fail?
Why is the Kyiv Independent so popular with English-language Ukrainian media?
And how loyal is Volodymyr Zelenský's image in the Western media?
Are you safe at the moment?
No one in Ukraine is safe today, but I'm still fine. I am in a district of kyiv where a lot of fighting took place a few days ago, but today the calm is relative. You can still hear explosions here, but they seem to be far away.
I understand that you probably won't want to know exactly where you are. But what kind of place is it? Are you in cover? In an apartment?
In the apartment, even with my parents. I spend the last days with them to help them. But we don't go to shelters because my mother is on crutches, so we wouldn't have time to go. Therefore, we hide from explosions according to the recommendations of the hallway.
What is your mood among your freelance journalists in Kyiv these days? How are you holding up?
I would say most people are very angry, that's probably the strongest emotion. There are good days and bad days, but that's probably what everyone has. In the good you are motivated, you defend yourself, you put heart into your work. In the bad ones, you watch videos and photos of people dying, of all these explosions, in places you know, you have memories of them, and it breaks your heart. We try to stick to those good days.
You are listed on Kyiv Independent's website as "General Manager" (CEO). What exactly does this imply in the current circumstances?
Under normal circumstances, I deal with management issues – I represent the media externally, I communicate with business partners, international donors, I make sure we have money to cover our expenses, that we have an office so that everyone gets paid for their work. I do some of that now, for example, I paid my salary yesterday. Also, I'm now trying to get editorial help and I've also taken up some of the journalistic work I did before I became a media manager.
I thought a lot about how I should imagine working in a newsroom during the war. How it works? Do you meet at all? Is there a classic morning meeting at Kyiv Independent, which takes place in all mediums?
No. It's impossible to get the whole group together, a lot of people are on the move, so our editor communicates with each member individually.
How many journalists does your team currently have?
There are about fifteen to eighteen journalists. Some move through the streets of the city, talk to people, take pictures. Of course, we are not going directly to the fights. A good journalist is one who is alive.
So how does it actually work? How do you divide your work?
It is very difficult to organize in the systematic form that we knew before the invasion. In the past, reporters took turns working, everyone had their assignments, everyone knew when they would be working. There is nothing like it today.
For example, there are no shifts. Today we're covering 24/7 – some people who are in safer places with stable internet access haven't slept more than five hours a night since the invasion began. Others are on the move, trying to get their families to safety.
Topics that would require field work are not given to reporters – they must volunteer for these stories, and if they do, we must ensure they are aware of all the risks involved.
We are Ukrainians, so we are used to working in times of crisis. But today, everything really depends on the commitment of our team members to work – but this commitment is really very big.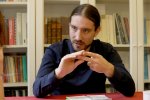 A week has passed since Russia invaded Ukraine. What were your thoughts and those of your colleagues at Kyiv Independent when this happened? Didn't you think you'd run away?
We talked about this possibility before the invasion, when we saw that the tension at the borders was escalating. We talked about the contingency plan, but the problem was that none of us believed it would actually happen. The possibilities – and among them the fact that we were leaving the country – were discussed, but when it happened, everything was different from what we had imagined.
First, we thought that if there was a war, the troops would advance from the east and we would have time to think about the next steps. But it wasn't, so you had to know very quickly what was going on, who was in town, who was gone and who wanted to leave. We also had to withdraw money quickly and distribute it among the heads of the reporting team in the event of a banking system failure.
Have any of your colleagues left the country?
Some did, for personal reasons. As we are an English media, several foreigners worked for us, and two or three of them decided to leave. But most of us stayed, and our journalists are now in various parts of central and western Ukraine.
Why didn't you leave too?
First of all, Kyiv is the city where I live. I come from here, this is my home and I don't want to leave. And then there are my parents – they don't want to leave either, and even if they did, it would be logistically very demanding, as they are older and have their needs. And I will not leave them.
And then there's another thought: the idea of ​​dying here is less frightening than the idea of ​​leaving and never coming back.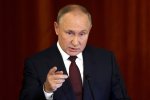 Like many journalists, I followed very closely the work of your reporters who stayed in Ukraine last week. And the success you achieved in such a short time fascinates me – before the invasion you had on twitter twenty thousand followers, today is a million and a half, and this week she even quoted you European Commission President Ursula von der Leyen. However, your media is not the only Ukrainian media it publishes in English. So why is he doing so well?
Hard to say. For a very long time, the voice of Ukraine in the world was the Kyiv Post, the media for which we all worked. I worked for him for six years and loved the place. I left in 2017, and when they then fired other journalists, I offered to help them create a new medium. We knew what we wanted to become – the new voice of Ukraine. We just didn't know we were going to be this fast and in such terrible circumstances.
Even before the invasion, we were on the right track, the number of readers and followers on social networks were increasing, we had our followers on Patreon, a successful crowdfunding campaign. We grew naturally.
When we started with our media, many were skeptical, claiming that we didn't have enough audience, expertise, resources. But I'm glad we went, because now the world needs us. There are other Ukrainian media written in English, but it is clear that many people rely on us. We are proud to be the voice of Ukraine and we feel a great responsibility when we are quoted by the President of the European Commission.
I have the feeling that for outside observers who watch the news on the Internet, the Kyiv Independent has become a symbol of Ukrainian resistance. Perhaps the second such symbol is only President Volodymyr Zelensky, who has become a hero in the eyes of the public. Is this a representative image? Or has our perception been shaped by the media and memes circulating about it on the Internet?
Before the war, Volodymyr Zelensky was average. Now, I'm not saying this as a journalist, but as a citizen – but it seems to me that something changed in him during the invasion. When he gave his speech before the invasion, everyone started to admire him. And a lot of people thought at the time, "Uh, this guy has a new person to talk to!"
Isn't he the one who writes the moving speeches?
Someone else is definitely writing to him – and personally, I really think he's a new person.
Anyway, I would say that in that moment, so to speak, he "took the wave" and probably realized what it means to be a true leader. Today, he stands with his people, stays in the country, talks to them. I was even embarrassed by his voice before the invasion, but when I hear him speak on TV now, it calms me down. He says things that everyone thinks. So maybe the person writing to him says them – but even if they do, thank God for him.
Zelensky is the one we need now. People look up to him a lot, polls show he has over 90% support. And we share the memes that its spheres are so big they can be seen from space.
I think something really changed in him. In the end, he may have felt what it meant to be Ukrainian. I don't think he's a savior, but we see him as a leader, as one of us, and that's the main thing. It is an image that he has been trying to build since the beginning of his presidential candidacy. But now it really is.
The Kyiv Independent will undoubtedly continue to be an important source of information on what is happening in Ukraine, not only for journalists but also for the general public. What can readers do to support you? What would you need from them?
You can share our work on social media and tell people to read news from a trusted source, not just us. We also lack bulletproof vests, helmets and first aid kits. We didn't buy them before the war and now they can't be obtained – we all ask for them and wait for someone to bring them to us. You can also donate money to us.
And you can also share the important message that all Ukrainians are now trying to convey – that this is not about Russia's war against Ukraine, but about Russia against the whole world. It's a clash of values. And that we need your help, because otherwise it can be really terrible and it won't just stop with us.
Daryna Sevčenkova is the CEO of Kyiv Independent. She has worked as a media manager and media consultant for years. She had previously worked as a journalist. For example, she headed the investigative journalism department at the ZIK TV channel and worked as a producer at the award-winning investigative media Slidstvo.Info.