Siemens Digital Industries Software introduced the latest version of NX, one of the best in the industry and part of the Xcelerator software and services portfolio. The latest version of NX uses advanced technologies such as artificial intelligence (AI), advanced simulations and other powerful tools. It also brings enhanced functionality and productivity, allowing designers and engineers to work faster and more efficiently.
In the latest version of the NX application, Siemens Digital Industries Software has combined requirements topology optimization with component generation, as well as additive manufacturing and finishing. It also provides users with converged modeling, automated PMI creation, and tools for effective project collaboration. Users will also appreciate the friendly user interface, which guides them through the design process.
Main new features of the flagship version of NX:
New mod NX topology optimization makes it easy to create components based solely on the functional and spatial requirements of the design, resulting in fully customizable convergent bodies that would be nearly impossible to design manually. Required design changes can be made easily and quickly. Optimizations and all additional features are updated automatically, saving time and increasing reuse of smart design and engineering data.
Tool Design Space Explorer assists in automatic mission-based design optimization, using a combination of design space exploration and generative engineering. Designers first define the optimization parameters, then NX performs the overall design optimization using Simcenter HEEDS software. As a result, the designer immediately gets suitable design variants that would otherwise require a simulation specialist.
Improved artificial intelligence (AI) and machine learning (ML) in orders Selection prediction and Choose similar they quickly recognize geometrically similar components. The NX Voice Command Assistant then lets you execute commands, navigate multi-level menus, and train the system to understand commonly used words and phrases. If NX simply asks "Have we done anything like this before?" the software will start searching for shapes using Siemens Geolus technology.
Grid Structures in NX it is now possible to optimize using simulations in Simcenter 3D. The software creates the optimal grid structure in a unit environment, eliminating several traditional analysis steps. Orientation optimization when assembling grid components and supports in the machine's print buffer, along with built-in cloud processes, help find the optimal grid orientation and achieve lowest possible thermal distortion. Siemens continues to develop advanced additive manufacturing capabilities to help customers optimize the entire design and manufacturing process.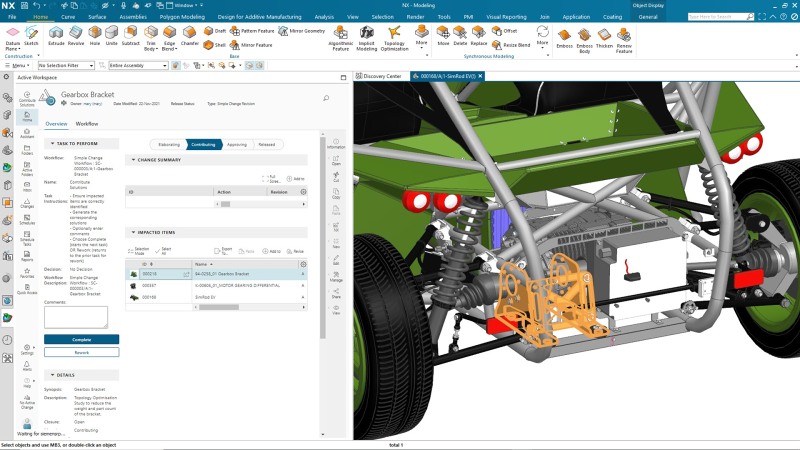 With each new version of NX, the possibilities and the quality of product development evolve a little more. The constant development of new versions of NX elicits a large response from the user community around the world, which can then be offered the best features much faster. With these new tools and technologies, customers can resolve design, engineering, or manufacturing issues faster. At the same time, the application's basic tools that customers need every day are constantly improving. In this version, more than 1200 improvements are initiated by customer needs.
Learn more about the latest version of Siemens NX here.