Three hundred thousand people had fled to the Czech Republic before the war. Among them is Anna Aljeksjejev, 34, who made and sold jams in Ukraine. She would like to return to Prague, but first she needs to find permanent accommodation, work and learn Czech. Above all, she is happy to be safe. "But we all feel guilty that we left and our loved ones stayed in Ukraine," he says.
Anna Aljeksjejevová has been living in Prague since the third week. Coming here was an immediate decision that she hadn't planned in advance. Like millions of others, she lost a safe place to live, work and everything she was used to until February 24, when Russia invaded Ukraine.
At home in Mykolaiv in southern Ukraine, she makes jams to order. She liked to create new combinations, such as coffee jam or apricot with lavender. And when a holiday approached, such as Christmas or Easter, she also prepared special packages with handwritten dedications. "It was such a micro business. I did everything myself, from making the jam to marketing, taking pictures, preparing and sending the shipments," he says.
At first, she made jams only for the family. But one day, her friend advised her to try selling them, and her passion turned into a full-time job. She sold her products through Instagram, which is widely used in Ukraine for retail, similar to Facebook in the Czech Republic.
"At first I only had a few orders, but after the revolution in 2014 people tried to promote local products more and I started selling a lot more," he recalls. It estimates that it processes about a thousand orders per year.
She also made jams with dedication, on the occasion of various festivals she always prepared new flavors. "We Ukrainians love holidays, we always celebrate something. And people want to give gifts on this occasion. So when it's a holiday, I have a lot of work to do, I could work 24 hours out of 24, I don't even sleep," says Aljeksjejev. In February, she made jams for the upcoming International Women's Day, commemorated on March 8.
Do you know the war has started?
But the world changed overnight. "I woke up and wanted to start working, it was normal in the morning. But suddenly my mother called me and asked me: Do you know that the war has started? I checked my cell phone and I couldn't believe it," he said. remember.
Her sister and her boyfriend immediately decided to leave the country and went to Estonia. Anna, who lived in a rental, first wanted to leave the apartment and transfer things to her mother, who, like her, lived in Mykolaiv and decided to stay in the country.
Jams and gift packages that Anna produced in Ukraine. | Photo: Anna Aljeksjejevova
"Then when I moved things from the apartment to the car with the help of a neighbor, sirens went off. And suddenly I heard bombs. We put a refrigerator in the car and bombs flew behind us. I didn't see them, but it couldn't be far," he said. They quickly drove off towards his mother's house, which was shaking.
Alexeyeva then spent three days hiding in the basement of the house. She couldn't sleep, she wasn't eating. And she waited for the right moment to leave Mykolaiv. "There are bridges across the river from the city, which were raised so the Russians couldn't enter the city. So I couldn't leave and had to wait for the bridges to come down," says- he.
In the meantime, she went to various people, wrote a request on Instagram for someone to help her leave Mykolaiv. She wanted to go anywhere safe. Eventually she contacted the Red Cross and volunteers loaded her into a car and took her to Odessa. She took a cat and a suitcase on the trip.
She took a humanitarian train full of people from Odessa to Lviv. It was hot inside, watering the cat to survive the trip. She arrived in Lviv early in the morning and met friends there. She had breakfast, slept for a few hours, and returned to the platform, this time on a train to Przemyśl, Poland, and from there to Prague.
"I was on the road for four days in total, I didn't eat much, I didn't sleep, it was difficult because I was driving a cat," he describes. The trip from Lviv to Przemyśl took the longest, taking all day instead of the usual two hours. "Thank God for the volunteers who gave us water and food," says Aljeksjejev.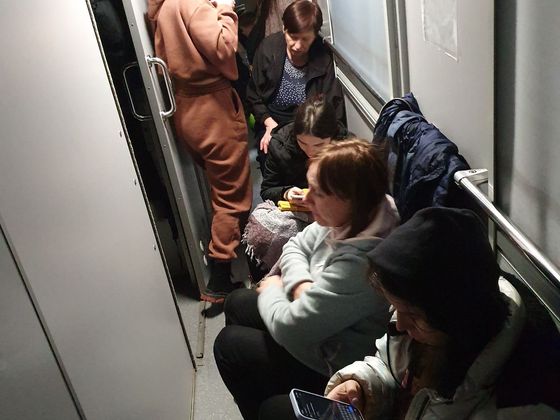 On trains from Ukraine, people often spend long hours on the ground. | Photo: Anna Aljeksjejevova
"Waiting for me to wake up"
She hadn't planned in advance to go to Prague. As she was about to leave Ukraine, her sister, who was already in Estonia at the time, was looking for a place to lay Anna's head. On social networks, she got in touch with a woman who promised to meet Anna in Prague and help her at first. That's why she headed for the Czech capital. She stayed with a Facebook woman for a few days, then moved to an apartment in Prague 5, where she can live for free for a month.
He doesn't have a permanent home or a job yet, he has to start from scratch. In time, she would like to start working in a cafe or a bakery, but now she is said to be happy for any job. He also wants to learn Czech as soon as possible. "When I get a job and a longer life, then I'll calm down. Then, over time, maybe they'll start thinking about traffic jams again," he says. She had to leave the ones she was preparing for International Women's Day in Mykolaiv. "It all stayed there. I left it with my mother, she can eat it or give it away."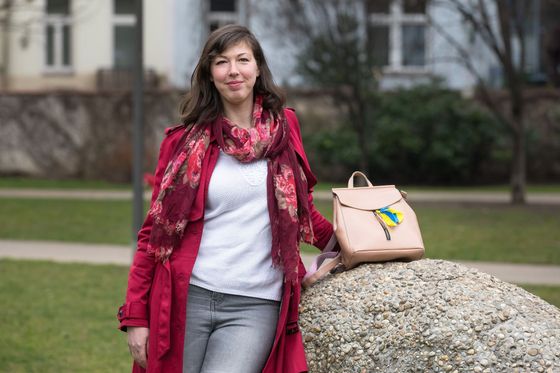 Photo: Jakub Plihal
He now spends his time looking for work and getting around the authorities, but he also constantly checks on the situation at home. "You never know what will happen the next day. My mother and brother stayed in Ukraine with my wife and two children. They find it difficult to work because everything is closed there. The situation is complicated. there's not much food in the shops, people need medicine, when there's a power cut, people can't even charge their cell phones, and then I can go crazy if I can't connect with them," he says.
He stops several times during the speech when a helicopter or a child starts screaming. It is also said that he is afraid of loud noises. "We are here and we are very grateful for the help. But we all feel guilty that we left and that our loved ones remained in Ukraine. There is a new challenge for me every day now. I live day to day. It's like a nightmare and I'm waiting, when I wake up from it, "adds Anna Aljeksjejev.