Bohdan dreams of a career as a criminologist, Sonja is surprised by the wide range of treats, Jehor wants to play professional football. The Vyšehrad Congress Center and the main train station are places where, even a month after the start of the Russian invasion, hundreds of war refugees from Ukraine arrive daily. Half of them are children. The Aktuálně.cz journalist spoke to the newly arrived Ukrainian children about their next plans.
Fourteen-year-old Iryna sits outside the entrance to the Prague Congress Center surrounded by five restless siblings. The sturdy building with dark mirrored glass, once the palace of the Communist Party of Czechoslovakia convent, now serves as an administrative center for people fleeing war in Ukraine. The girl with red hair looks around. She lost sight of her mother, who went to the assistance center to process some documents. It's a beautiful Tuesday afternoon. Sun, heat, calm. How different from the dramas that people experience every day in the country where the family of six children is from.
Fourteen years old – Iryna Photo: Jakub Plíhal
So far, almost 300,000 Ukrainians have fled to the Czech Republic since the start of the war. These are estimates. No one knows the exact numbers. The Vyšehrad Congress Center and the main train station are places where, even a month after the start of the Russian invasion, hundreds of war refugees from Ukraine arrive daily. Half of them are children.
A group of children are playing on the cobbled area in front of the huge palace. The war has not erased the smile from their faces. Unlike their mothers and grandmothers. You are worried. Perhaps a small consolation for them is that Ukrainians arriving today expect a much shorter queue than if they had arrived three weeks ago. The registration rooms are almost empty.
The mother of fourteen-year-old Iryna and five brothers returns in less than an hour: "Children, I'm done," she calls, and a group of happy children hug her. The necessary documents have been processed. Shortly after, Iryna emerges from the crowd and hops on Aktuálně.cz. He wants to go beyond siblings and tell the story of the family first.
"We only arrived from Dnepropetrovsk to Prague today. The trip was hellishly long, but it was worth it. Prague is the most picturesque city I have ever seen. I have never never looked abroad before the war. I heard there was a lot of art in the schools in Prague, right?" he asks hastily and with enthusiasm in his eyes. He did not have the opportunity to study at an art school in Ukraine, the nearest one was too far away and was not free.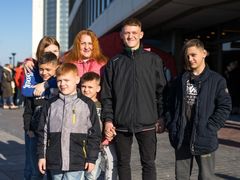 Iryna, Bohdan and four brothers with their mother. | Photo: Jakub Plihal
Before fleeing to Prague, a red-haired girl studied in the eighth grade. At school, she was most fond of music and art education. In her spare time, she enjoys painting and watching Japanese animated films. "I hope my family and I will stay here. I like it here. I want to stay here. But I'm afraid that once the war is over, the Czech government will send refugees back," he said.
The mother and her 16-year-old older brother, Bohdan, are already looking for a job in Prague. "I don't know if we will have a good job offer outside of Prague. I am basing it on the experience gained in Ukraine. The best offers are in big cities, in the village the wheat usually does not bloom", thinks the woman.
When it comes to a longer-term plan, he looks quizzically at his eldest son. Bohdan became the head of the family some time ago. He did not have a choice. "My father left us four years ago. I wanted to be an athlete like him when he was little. He was a role model for me. But when he left, the world changed. I had to help my mother take care of my brothers and sisters . . , " confides the young man. However, he is not complaining. He talks about other plans with a smile.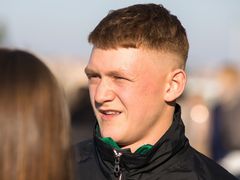 Bohdan 16 years Photo: Jakub Plíhal
Even in Prague, he does not give up his dreams of a career as a soldier or a criminologist. Whether in the Czech Republic or Ukraine. "Effort and hard work are important. Many believe that happiness will fall from the sky. No matter what, as long as I have a family by my side, we are invincible together. We will work hard," he said. pointing to his younger brother, who has just come forward.
Even the seven-year-old boy, Jehor, is not yet thinking of returning home. "When I grow up, I would like to be a professional footballer. Are there any famous teams?" he asks. The rest of the family laughs and assures the junior that there will definitely be more than a few good teams in the Czech Republic. Although, for example, master Slavia had to bow to Ukrainian Dynamo Kyiv four years ago.
"Here comes the fun and the goodies"
The main train station is three metro stops from the Vyšehrad Congress Center. It is the gateway for people fleeing Ukraine. Here too, children run. They are also enthusiastic about Prague. Six-year-old Sonja from kyiv snuggled up to her grandmother. "It's beautiful here. I've never traveled so much in my life as I do now. We've gone through one, two, three – three whole states," he counts on his fingers. She loved to travel. Especially now, on the run. And she also found that local sweets are quite different from Ukrainian ones. Not far from the small station bench where he sits with his grandmother, there is an ephemeral snack. It was built by volunteers. Sonja is thus closer to the colonnade pancakes.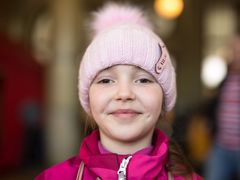 Soňa, six, from kyiv, says she has never traveled like she does now. | Photo: Jakub Plihal
Nine-year-old Maxim, his mother Anžela and his aunt Tatiana are waiting for a train to Germany on a nearby bench. They came to Prague from Brovary near kyiv. So far they have spent less than two hours at Central Station. They received soup from volunteers. "They'll take care of us in Germany. It's nice in Prague, but we don't know anyone here," the boy said.
"In the beginning, people came who knew where they were going, they had families, housing. Now it's mostly people who have nowhere to go, they have no family to stay with," explains the crisis coordinator of the Refugee Aid Organization.Erika Dvořáková.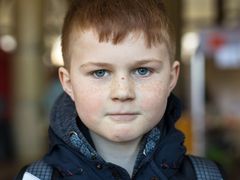 Nine-year-old Maxim did not stay in Prague, but continued in Germany. | Photo: Jakub Plihal
In addition to this organization, the Hlavák Initiative, for example, also operates at the station, and volunteers are sought through these organizations. They have selected trains in advance which will bring more people from Ukraine. "When hundreds of people arrive, we mobilize all the volunteers to stand on the platform, ready to offer their help," says Dvořáková.
Another station bench at the snack bar. Another children's story. Five-year-old Bohdana, surrounded by cookies and chocolates, escaped with a family from the White Church, located in the Kyiv region, by evacuation train. "Here comes the fun and the gifts. What surprise is Kinder's egg hiding now?" reports a little girl who does not take her eyes off the screen of a mobile phone with an addictive game on an animal farm. Bohdan's father, Yuri, 60, is currently recording his saxophone at a summer concert.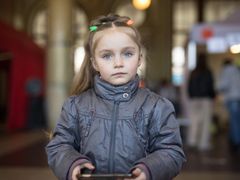 Bohdan, five years old. | Photo: Jakub Plihal
"If I knew that we would meet here today, I would take a portfolio with me. I would like to stay with art in the cultural center of Europe – Prague. I studied music education putting l "emphasis on education. My wife is also a special needs child," explains the saxophonist. "We now live in one of the two bedrooms with another family. As it will be two weeks after the agreement with the owner of the apartment expires – honestly I have no idea. Prague lacks housing for refugees," the saxophonist said sadly.
The onslaught that Central Station experienced last week has eased slightly. The number of Ukrainian refugees arriving in Prague has gradually decreased in recent days. But thousands of people are still coming to the country every day, Czech Railways spokesman Petr Šťáhlavský said. But no one can guess how this will continue.