The war in Ukraine affects the fate of millions of people, hundreds of thousands of them flee their homes, often have nothing at all, go into the unknown. And the inhabitants of a small Moravian village can play a key role in their current life. A group of Ukrainian women and children met in the village of Blatnička. The owners of the guest house and the local people try to help them as much as possible. "We feel at home here, there are good people here", say the women.
"We were very lucky to come here from the refugee center in Brno," says Anna, a 21-year-old mother from the Ukrainian town of Kaharlyk near kyiv. When she decided to leave Russian-occupied Ukraine, she had no idea that a few days later she would be carrying her five-month-old son Maxim in a pram outside the Minařík boarding house in the small village from Blatnička, in southern Moravia.
On Sunday morning, the frost really hits, but despite all the problems, she is warmed by the fact that she has found safety here in the Hodonín region. Moreover, he can be here with his son, his forty-six-year-old mother Victoria and his sixty-four-year-old grandmother Světlana. Thirty-five-year-old Irina, whose husband is Mrs. Victoria's brother, and her fourteen-year-old son, are also staying in the village with them.
"There are good and careful people, the conditions here are at home. We are very grateful for all the help. They treat us warmly, even though we are foreigners and do not know the language," adds Irina.
Women thought about leaving for a long time, especially when they knew they were bringing a baby. In the end, they had no choice. "For us, the war was like a thunderbolt. Russian troops surrounded the kyiv region from the south, the noose began to withdraw. Three times we decided to flee, we delayed the decision, twice we thought something might change for They decided "We left for the third time. We packed our two backpacks, took the children and left", describes the departure of Irina.
First we made a list of what a wife and child need
Not all people who fled before the war in the occupied homeland were lucky enough to find accommodation in a boarding house. Last week, Aktuálně.cz published, for example, a report about women with children sleeping on mattresses in the Brno refugee center at the exhibition center. Some women already had to leave the accommodation provided by the Czechs in the early days of the war, because the landlords no longer had enough money and considered state contributions to be low.
This is not the case with a boarding house in Blatnička, whose owners have decided to leave the women here for at least a few more weeks. Together with other locals, they have been caring for women with children since getting off the bus last Tuesday, which took them to a village of four hundred people in the refugee center of Brno.
Jarmila Hrušková (left) in a debate with one of the Ukrainian women. Bohdan Hensirovský, who has lived in the Czech Republic for more than twenty years after leaving Ukraine, helps women with translation. | Photo: Radek Bartonicek
"Our help is needed because women with children would find it very difficult to fend for themselves. When they got off the bus, they were wearing winter clothes and otherwise almost nothing else. Official acts," says Jarmila Hrušková , one of the women who take care of the refugees and their children on a daily basis. She uses her experience of twenty years as mayor and also helps her sister Maria Minaříková, whose family has a pension.
"Since the arrival of the women and children last Tuesday, my sister and I have been living our destiny and trying to help every day. I admit that I don't sleep much, I didn't know it would take me like this. trip "says Jarmila Hrušková, to whom the women address themselves with gratitude to "our lady".
The priests Zdeněk Stodůlka, head of the church in Blatnička and also hosting several refugees in his parish in Blatnice pod Svatým Antonínkem, also help the Ukrainians.
"We have often spoken with the pastor in the past about how to transform our parish in Blatnička. Now it is quite clear to me. The best prayer shown is acts of love. So far we We haven't met anyone who wouldn't agree with such a view. They want to help," says Hrušková, who has a close relationship with the local Catholic parish and has been enthusiastically involved in its activities for years.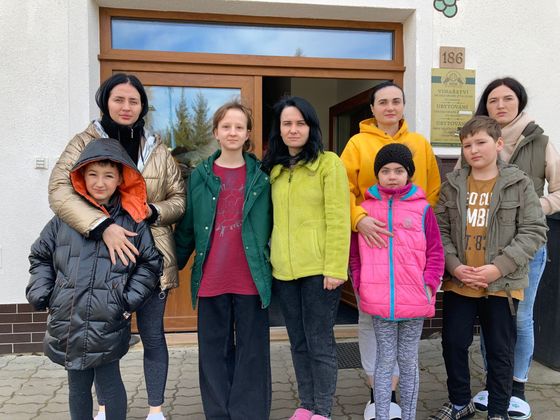 These women with children now live in the boarding house in Blatnička. | Photo: Aktuálně.cz
Help takes many forms. For example, Ukrainians with children need clothes and shoes, food and other things will also come in handy, since some of them are almost destitute. "The day after we arrived, we brought in four interpreters and made a list of what each woman and child needed. We started looking or buying things from the list. 'money on it', describes the former mayor. .
Our house is damaged, there was a rocket in the nursery
But more than that, the women needed help with a variety of official matters, from registration, residence permits, employment office records to processing bank accounts. "This official wheel is difficult even for us, let alone for those who disagree. We had to go to some offices several times, luckily the bank or the government officials are trying to help us. But we have to always pay attention to each woman separately, for example, they must have a Czech courier and a Czech phone number where they can get more information," says Hrušková.
Here too, the importance of the local community has become evident. Josef Šurýn, who worked in Ukraine for five years, where he was responsible for establishing Erste Bank branches, returned to Blatnička to retire. He talks to Ukrainians, gladly helps them open bank accounts and money, and also transports them everywhere to authorities.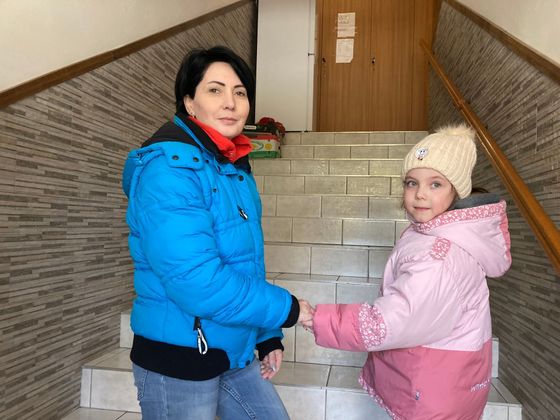 Mrs. Victoria's house is damaged after the Russian attacks, she is in Blatnička with her two daughters. She was about to go for a walk with one of them. | Photo: Radek Bartonicek
The women of Ukraine, who have found asylum in Blatnička, are extremely grateful for their care and help. For example, three friends from Kharkov and two other women from the Dnipropetrovsk region, with whom the editors spoke. "We think we will be able to go home soon, but now we are happy to be here where they are taking very good care of us," they say.
For example, Viktoria came with two children and a friend Olga, who also took two children with her. They lived in Mykolaiv until Russian soldiers started shelling the city. They also killed several civilians. "I don't know if it was rockets. But the explosions were so massive that the windows of our house flew. Fortunately, we were no longer at home. We all left our homes before the attack itself. But the houses are just as uninhabitable because, apart from their damage, the electricity and gas supplies have stopped," says Viktoria.
"Behind the house where I lived is a kindergarten. Rocket
flew straight to the playground. But they already took it down. Our apartment and our kindergarten are located next to the military part, but the soldiers hit the residential houses," he says.
Most of the women contacted at the boarding school want to find a job quickly and would like to take free Czech lessons. Children will benefit from being seated in school, although the Czech school. The Czechs also help them in this area. "On Tuesday I meet the headmistress of a school in the nearby village of Blatnice pod Svatým Antonínkem. The headmistress wants to know the ages of the children so that she can include them in the classrooms and at the same time provide them with meals," Hrušková points out .
Some cities in Ukraine were destroyed by the Russian occupiers. No one knows how long he will fight. The residents of Blatnička are therefore counting on longer-term help, even if, for example, the owners of the pension have come under criticism from national tourist agencies, traditionally transported by Czech cyclists since spring . "We told them that we are now helping the refugees. Day by day we get closer to the women and their children and we care a lot about their future. They have grown in our hearts," adds Jarmila Hrušková.