In the last round of the base game, the ambitious Prostějov was unsure whether he would qualify for the playoffs. But the victory over Třebíč changed everything. After that, the Hawks faced Kolín in the preliminary round and, to make matters worse, they knocked out favorite Litoměřice in the quarter-finals. "We trusted them," said one of the team's pilots, Tomáš Jiránek. He also adds that the Hawks are not done yet: they want to slide as far as possible.

How was the series for you?
It must have been heavy. Quite simply because we came out a bit beaten in the pre-round series against Kolín. We didn't have a good conclusion to the base game. We didn't know until the last round if we would make the playoffs. But we succeeded in the preliminary round, we entered the lauf and we trusted Litoměřice thanks to that.
At the same time, when you scored five goals from Kolín at home in the 2nd round of the preliminary round, many belittled you.
After that game, we sat down with the coaches and said a few things to each other. We said we had to play differently – more responsibly. We got together when our tow was burning, as they say. I think it showed in the second home game against Cologne. We won it scoreless.
But in the quarter-finals, it was again a wild goal.
It's true. No one expected so many goals scored. For the spectator, it's attractive hockey, for us players and coaches, it's sometimes annoying. (Laughs) But I'm happy that we were able to win these matches in our favor. The strength of the team showed, although we almost always had some downtime, we managed it.
"We believed in Litoměřice."
Failure caused by his own lack of concentration or the quality of the opponent? What do you think?
I would definitely say the quality of the opponent. Litoměřice had quality, which they showed throughout the base game. When we made a mistake, they were able to punish it almost always. We made a lot of mistakes, especially in the second half. But we didn't get along when they could settle down. That's why we succeeded.
This year's playoff format with a two-game preliminary round and three-game winning quarterfinal is relatively atypical. Do you think the front table teams paid extra for this?
I really think the teams that went to the quarter-finals had the advantage. Although they were beaten, they practiced the game again. The teams that stood, so it took them a while to go into play off mode. I experienced it last year with Jihlava, when we went to Litoměřice, who qualified from the preliminary round and we also had problems with them. It took us a while to get into play off mode, like I said. With the three-game winning quarterfinals this year, that factor has become even more pronounced.
This was confirmed in the first games of all series where the favorites lost.
Exactly. The preliminary round team is still going well and laufu. Litoměřice has just been training and waiting for the opponent. So it wasn't just us who had the advantage at the start of the series.
"Before the extra time in the fourth game, we thought they would be more nervous."
Did you say that before the first third of the series?
Of course, we talked about it in the cabin. We wanted to surprise them in the first third of the first game with them, because we knew they wouldn't play each other. It was our intention. But on the other hand, I think from the second half it's still a normal series. The nervousness subsides and it's always who and with whom.
When I ask you about key moments in the series. Which would you choose?
For me, it was the first game there that we could win, then the third game at home.
Did you feel any heightened nervousness from the Litoměřice side in the following fourth game?
Especially before extra time, it was thought that they would be more nervous, because at that time they were separated by a season-ending shot. Also, both teams had sick and injured players, so it was a fight. Who was it with whom. Luckily, we had a five-on-three power play, which we rightfully used and advanced for me.
You mentioned the sick and injured. According to your owner Jaroslav Luňák, 12 players suffered a series of nutritional drops before the third game. Was the situation so bad?
We brought it from Litoměřice. Suddenly we all caught and didn't train at all for two days. Then we went straight to the game. Both teams struggled with it, both teams had problems and we had a greater will to succeed. We thought we had to get there. The one who can bite. Some guys did better, some not so well. Two boys withdrew from the game due to a poorer run, but we still went for blood. There's nothing to save for the playoffs.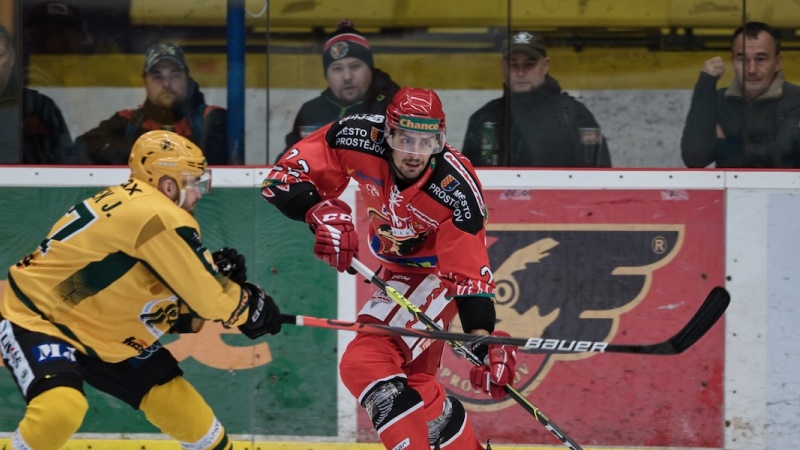 Photo: lhkjestrabi.cz
Vsetín awaits you in the semi-finals. Will you eliminate the second best built team after the base game?
This is our goal. We want to go to the final! Prostějov is in the semi-finals of the first league after twenty years, and we also realize that the city lives from hockey. In the basic part, we didn't do well at home, which may have discouraged some people. So we think we are now attracting fans to the stands.
You have played three times with Vsetín in the base game and lost three times. What series are you expecting?
As you say, we've lost to them three times, but they're all pretty even games. Now everything clears up and we start from scratch. From the same starting line. The little things will decide. The playoffs are played from behind, on the other hand we have a very offensive team and we believe that we are capable of shooting at them.
"Prostejov is in the semi-finals of the first league after twenty years. You feel that the city is alive with hockey."
You came to Prostějov from Jihlava before the season. What brought you to this?
Mr. Totter called me and introduced me to the vision that appealed to me. I have been in Jihlava for a few years and needed a change. We didn't agree on a contract, so we thought we were going to break up. But we broke up for good. I will always remember Jihlava at its best.
Theoretically, you can compete with Dukla in this year's final.
I wished him the semi-finals. (Laughs) I would like to go back, it would be a spicy series for me.
At the same time, after the departures of Fronka, Lichance and Illéš Jihlava in the playoffs, nobody really believed in it. Nevertheless, she managed to reach the semi-finals again.
Jihlava has long been one of the best in the Premier League. They still have a lot of players in the team who had successful years there. They rely on established systems. It's true that a lot of people underestimated them this year, but they completed their team well with youngsters. They should be happy with how they handled the quarter-finals against Přerov.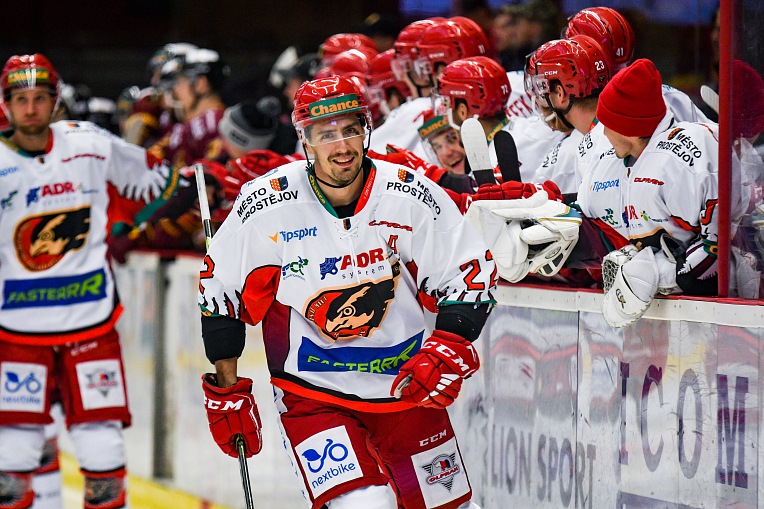 Photo: lhkjestrabi.cz
Who do you think is the biggest Dukla putty?
Certainly Tomáš Čachotský, he is a legend of Jihlava. Then I would mention Pep Skořep. They have an excellent goalkeeper Zhukov.
If you really compete with Jihlava in the final, will you write a bonus to the cabin?
The local treasurer would definitely ruin me. (Laughs) So it wouldn't work for me cheaply. But I would definitely write something motivating in the booth. Anyway, now my main focus is on the semi-finals against Vsetín.
"As a rival, I wished Jihlava the semi-finals."
In Prostějov you have the skills of coach Petr Hubáček. How do you perceive its benefits?
Pierre played a lot. Even in international competitions. From the position of the player, he pays a lot of attention to detail. If you wish, you do skill drills with him after practice. It's such a cabin partner. We are happy to have him here.
Super cool, isn't it?
Yeah, he tries a lot to support us and reassure us. The whole cabin is watching him. If someone fails, he will help us. They also deal with power play or weakening, for example.
With an electronic pen too?
We don't have that in the locker room. (Laughs)
You are said to be the ideal hockey player for the playoffs. Do you see yourself like this?
I hope that I am typologically the ideal hockey player for the whole season. (Laughs) But it's true that I like these important playoff games where everything revolves around. You have to mentally prepare for it and give your all. Personally, over the years, I have had my own playoff prep system.
"We don't have an electronic pen in the locker room."
Maybe on fish?
In fact, I haven't fished for about a year now. (Laughs) I didn't have time for that and didn't even bring walking sticks to Prostějov. I look forward to the season as soon as I go fishing.
What's your biggest catch?
I caught about a fifteen pound sturgeon. I was happy with that. But I'm more of an amateur fisherman. I always leave the fishing in the water. (smiling) I mainly enjoy the peace and quiet of fishing. I talk to my friends and think of nothing.
Do you also have fishing friends among the hockey players?
In Jihlava, I sometimes went fishing with Matěj Pekr. In Boleslav I go out with boys who played hockey but don't play anymore.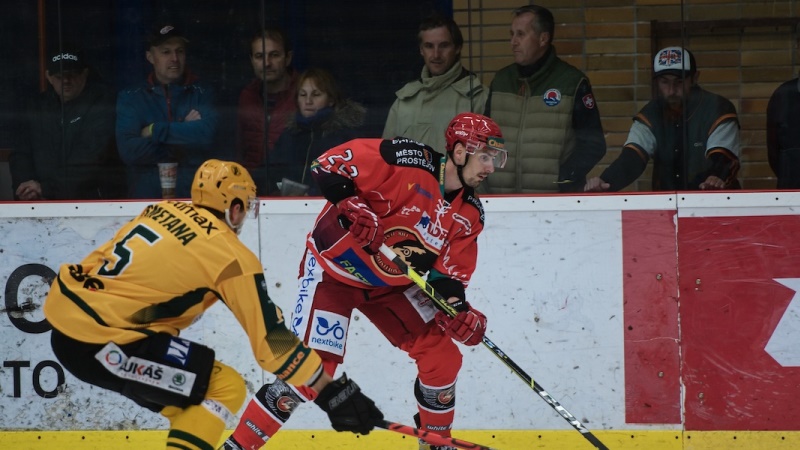 Photo: lhkjestrabi.cz
Share on Facebook
Share on Twitter